Donald Trump West Palm Beach Live Stream: Watch Video Of Republican Candidate's Thursday Speech In Florida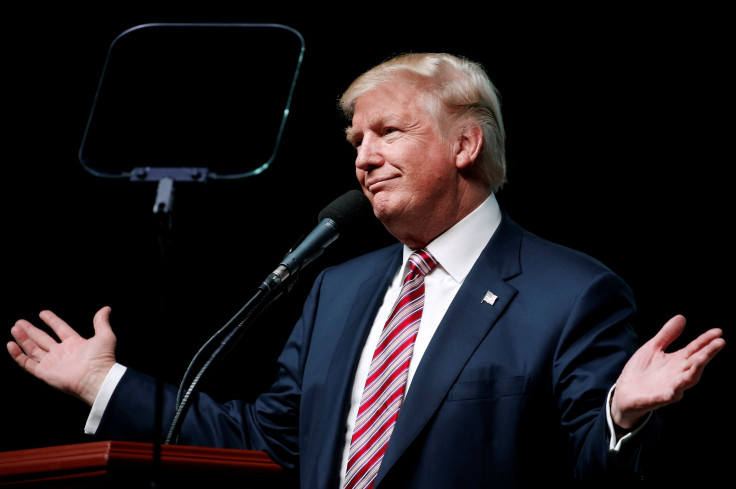 UPDATE: 1:51 p.m. EDT — Republican candidate Donald Trump flatly denied two recent media reports that he inappropriately touched several women. Speaking Thursday in West Palm Beach, Florida, Trump claimed the New York Times and People magazine did not verify the accusers' stories because "even a simple investigation would have shown that these were nothing more than false smears."
Trump mentioned that his team was preparing a lawsuit against the Times. While the nominee was still on stage speaking, the Times' lawyer released his response to Trump's request to take down a Wednesday article detailing two women's allegations against him.
Times attorney David E. McCraw wrote in a letter that the newspaper would not retract the story. "Our reporters worked diligently to confirm the women's accounts," he said. "It would have been a disservice not just to our readers but to democracy itself to silence their voices."
Original story:
Republican presidential nominee Donald Trump is scheduled to make a "major speech" Thursday in West Palm Beach, Florida, as the discussion around his sexual assault accusations reached a fever pitch. Trump was set to take the stage at noon EDT for a rally at the South Florida Fair Expo Center, according to his website.
See a live stream of the speech below or on YouTube:
Trump was hitting the campaign trail Thursday afternoon, but he spent the morning on Twitter insulting the New York Times and People magazine. Both publications published stories Wednesday night accusing Trump of inappropriately touching women.
The New York Times piece included accounts from two women, one of whom claimed Trump grabbed her breasts on an airplane in the 1980s and another who said Trump kissed her outside an elevator in 2005. People reporter Natasha Stoynoff then put out a late-night article alleging that Trump had forced himself on her and declared "we're going to have an affair" during a 2005 interview.
The Trump campaign put out a statement on the Times story and declared it fiction.
"It is absurd to think that one of the most recognizable business leaders on the planet with a strong record of empowering women in his companies would do the things alleged in this story, and for this to only become public decades later in the final month of a campaign for president should say it all," spokesman Jason Miller said in the news release.
Trump himself elaborated on Thursday.
The reports followed the Friday leak of a 2005 audio tape of Trump bragging about kissing and grabbing women by their genitals.
With the general election 25 days away, polls have Democratic presidential nominee Hillary Clinton leading Trump 48 percent to 41.8 percent, according to RealClearPolitics.
© Copyright IBTimes 2023. All rights reserved.