Donald Trump Works For Putin? US Spies Don't Trust President With Sensitive Intelligence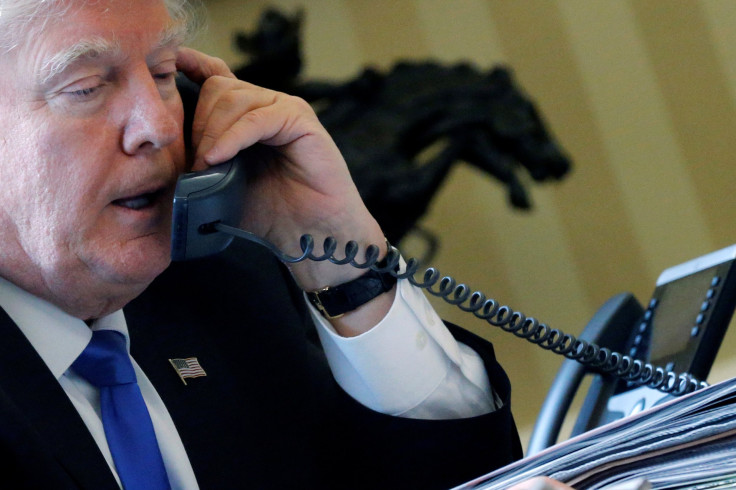 President Donald Trump might give sensitive intelligence to the Russian government and shouldn't be informed about classified information, such as how Washington spies on foreign governments, U.S. intelligence officials said. The officials have refused to give the White House sensitive intelligence out of fear that the information will be leaked or compromised, the Wall Street Journal exclusively reported Wednesday.
Trump isn't trustworthy, the officials reportedly said, because his inner circle is too cozy with the Russian government. Moreover, Trump has repeatedly expressed disdain for U.S. spy agencies. Most recently, he said Wednesday they were leaking information to hurt his Republican administration.
A White House official denied the Wall Street report. "There is nothing that leads us to believe that this is an accurate account of what is actually happening," the White House official said.
But sources told the Wall Street journal that intelligence leaders won't tell the White House who their sources are or other important information. Security threats, however, are being shared with the Trump administration because of national security concerns.
Michael Flynn, Trump's national security adviser, resigned Monday over his relationship with the Russian ambassador. The Senate Judiciary Committee requested Wednesday a Justice Department briefing about Flynn's resignation and his communications with Russian officials. Meanwhile, Trump has repeatedly praised Russian President Vladimir Putin. During the 2016 presidential campaign, he even urged Moscow to hacks the emails of Democrat Hillary Clinton.
"Flynn was forced to resign ostensibly because he had inaccurately described the content of his phone calls with Russian Ambassador Sergey Kislyak, which took place before Trump's inauguration. He was a liability to the administration in any case because he seemed unable to get along with the Central Intelligence Agency," a Bloomberg View article concluded Tuesday.
Trump has also defended Russia to other world leaders. Prime Minister Shinzo Abe said Monday Trump urged him to seek closer ties with Russia during his visit last week to Washington.
© Copyright IBTimes 2022. All rights reserved.
FOLLOW MORE IBT NEWS ON THE BELOW CHANNELS