Donald Trump's Physician, Air Force One Did These To Trick POTUS To Eat Vegetables
KEY POINTS
Donald Trump's physician had to trick him to eat vegetables
Air Force One served vegetables during Donald Trump's trip to Chicago
People walked out while Donald Trump was delivering his speech during a campaign rally
Donald Trump doesn't eat vegetables, so his physician had to trick him to do so.
In an interview with The New York Times, Ronny Jackson, Trump's physician, shared what he did to make the POTUS eat vegetables. Those who know Trump very well could attest to his fondness for steak and other unhealthy foods like fries. So, Jackson had to do something to convince Trump to consume greens.
According to Jackson, his goal was to help Trump lose 10 to 15 pounds. He wanted Trump to work out by bringing an exercise bike or elliptical machine into the White House, but it never came to pass. Instead, the POTUS gained four pounds, so they had to work on his diet.
"The exercise stuff never took off as much as I wanted it to," he said. "But we were working on his diet. We were making the ice cream less accessible, we were putting cauliflower into the mashed potatoes."
Air Force One also did the same. Tessa Benson, Time magazine White House correspondent, shared a snap of a vegetable meal that was served aboard Air Force One during Trump's flight to Chicago on Twitter. But they did it stylishly by stuffing the orange bell pepper to look like a jack-o-lantern in time for the Halloween season.
"The wonderful chefs aboard AF1 were full of the Halloween spirit today with the presentation of these stuffed peppers," Benson said. "Trick or treat!"
In related news, clips during Trump's campaign rally in India were shared on social media. One of the videos showed many people walking out while he was delivering his speech. The post prompted mixed reactions from online users.
Some claimed that the crowd couldn't take Trump, so they just walked away. Meanwhile, some wondered if it was true because the video showed many vacant seats, but when the rally was shown on TV, the stadium was filled with people and they didn't see anyone walking out while Trump was speaking. Others said that the people were leaving to avoid traffic. Commuting was apparently difficult because there were too many people and too few buses.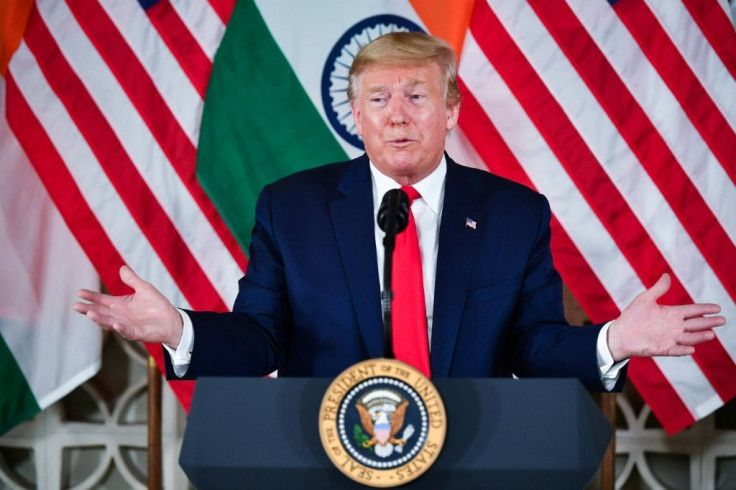 © Copyright IBTimes 2023. All rights reserved.