Donald Trump's Twitter Banner Changed To Slam Russia Links After James Clapper, Sally Yates Senate Hearing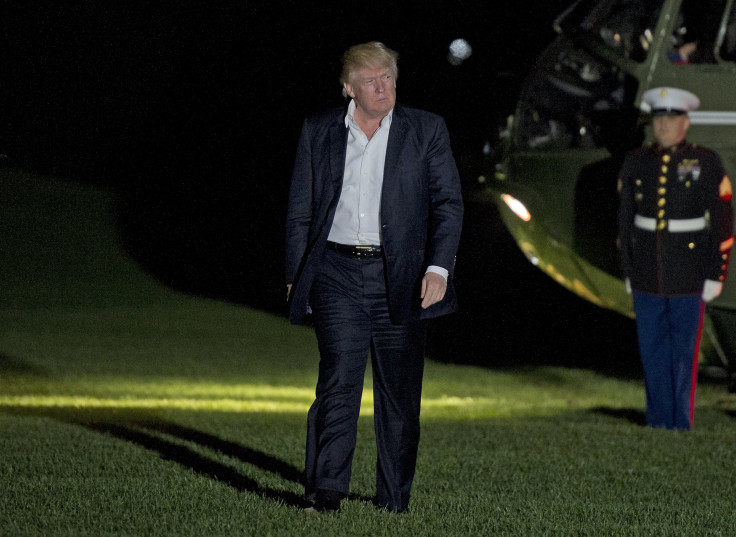 President Donald Trump changed his Twitter banner Monday to include one of his recent tweets that denied reports about his campaign links with Russia.
The tweet was in reference to former Director of National Intelligence James Clapper's testimony to a Senate Judiciary subcommittee. The hearing was mainly focused on former National Security Adviser Michael Flynn's connections to Russia and allegations against Moscow meddling with the presidential elections in 2016.
Read: Top 5 Aides Of President Accused Of Having Links With Moscow
"Director Clapper reiterated what everybody, including the fake media already knows- there is 'no evidence' of collusion w/ Russia and Trump," the president claimed in his account's main picture, which shows him surrounded by about a dozen people in the Oval Office giving a thumbs up.
The banner in question has now been taken down from Trump's Twitter page.
Trump has been quite vocal when denying reports about his presidential campaign's links with Russia for months. On Monday, during the senate hearing, Clapper stood by his past claims that he had not seen or found any evidence of relations between Russia and the Trump campaign. However, he did not comment on classified matters.
Former acting Attorney General Sally Yates, who was fired by Trump in January, also testified in front of the senate Monday. She said during the hearing she had alerted the White House earlier this year Flynn could be "essentially blackmailed by the Russians."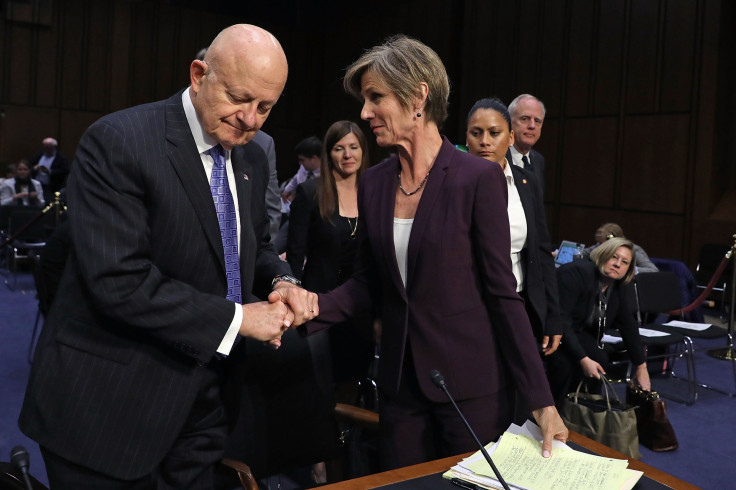 Trump went on a Twitter offensive even hours before the hearing started on Monday. However, that included changing his Twitter banner to include Clapper's comments about the U.S.-Russia links, before Yates' testimony.
Social media users on Twitter were prompt enough to mock and criticize the change to the president's Twitter account, while some also pointed out it did not appear correctly on many devices.
Others took the initiative themselves, adding their own creative lines mocking the picture, others thought the president was protesting too much against the alleged links between his campaign and Russia.
At the senate hearing Monday, Yates said "We believed that Gen. Flynn was compromised with respect to the Russians."
Yates said in her testimony she had a meeting with White House Counsel Donald McGahn on Jan. 26 to inform him about Vice President Mike Pence's statements based on his conversations with former National Security Adviser Flynn. She said she had already told McGahn they were false and Flynn had lied about the links between Moscow and Trump's campaign.
"We weren't the only ones that knew all of this, that the Russians also knew about what General Flynn had done and the Russians also knew that General Flynn had misled the vice president and others," Yates said, referring to her January conversation with McGahn.
Flynn was fired 18 days after Yates met McGahn following several news reports alleging he lied to Pence about his conversations with Russian ambassador Sergei Kislyak.
Rep. Devin Nunes had canceled an earlier March hearing where Yates was scheduled to appear before a House committee investigating Russian interference in the presidential election.
Trump fired Yates in January, removing her from the post of the nation's top law enforcement officer after she refused to support his executive order on a travel ban restricting refugees and people from predominantly Muslim countries from entering the country.
"The acting Attorney General, Sally Yates, has betrayed the Department of Justice by refusing to enforce a legal order designed to protect the citizens of the United States. This order was approved as to form and legality by the Department of Justice Office of Legal Counsel," the statement from the White House read.
© Copyright IBTimes 2023. All rights reserved.