Donatella Versace Is The Face Of Givenchy's Fall/Winter 2015 Campaign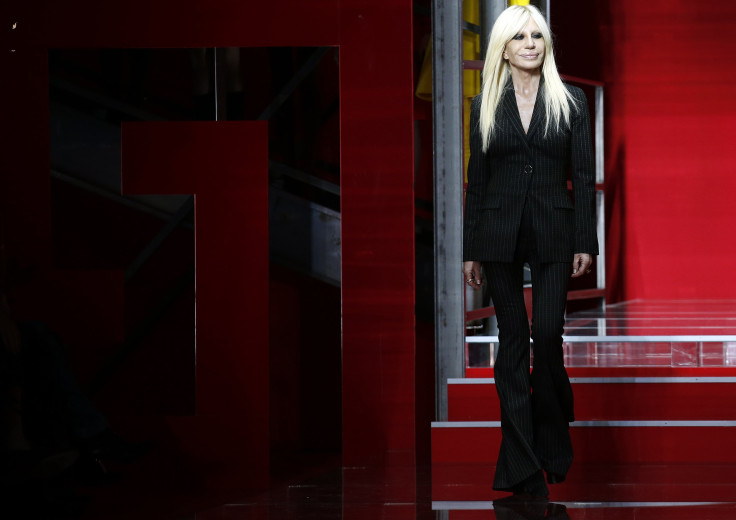 The high-fashion brand Givenchy's Fall/Winter 2015 campaign will feature Donatella Versace. The Versace and Versus designer was selected by Givenchy's creative director, Riccardo Tisci, for a new campaign that was unveiled last week. It will also feature Victor Cruz and Candice Swanepoel, according to People.
The designer announced in April that he would be featuring his "ultimate icon," Versace, by releasing a snapshot of her profile. More recently, he unveiled two finished campaign photos. In one, the designer is wearing a fit-and-flare jacket and a skirt. In the second snap, she is dressed in a baroque blazer featuring a fitted, see-through peplum corset and matching trousers.
"I believe in breaking rules. Riccardo Tisci is extremely talented and, above all, my dear friend. We are family," she explained of her decision to feature in the rival label's ad. The 60-year-old Italian fashion designer behind Versace took to her official Instagram and said that she wants to get rid of the old system, work together, support others and make fashion a true global community.
Versace's caption gave shout-outs to the creative team behind the shoot. While Tisci was responsible for the artistic direction, photography was by Mert Alas and Marcus Piggott. The styling was handled by Carine Roitfeld.
The 40-year-old Tisci is making a bold statement by enlisting unconventional personalities to star in his campaigns once again. After casting actress Julia Roberts and transgender model Lea T, Tisci has now teamed up with Versace. The joint venture is something that has never been seen before, especially since Givenchy and Versace are rivals in the industry.
Tisci explained the reason why he approached his friend Donatella. According to him, Versace is his fashion icon, and he thought it was about time to break boundaries and give a strong message about how to think about fashion. The designer posted a photo of two more fall ads, one with footballer Cruz, calling him the "G Man." Another picture featured models Swanepoel, Stella Lucia and Aliz Menyhert which he calls his "Victorian G Gang," dressed in draped dresses and gumdrop-sized faux facial piercings.
© Copyright IBTimes 2023. All rights reserved.