'Downton Abbey' Season 5 Spoilers: 7 Things To Know About The Christmas-Themed Finale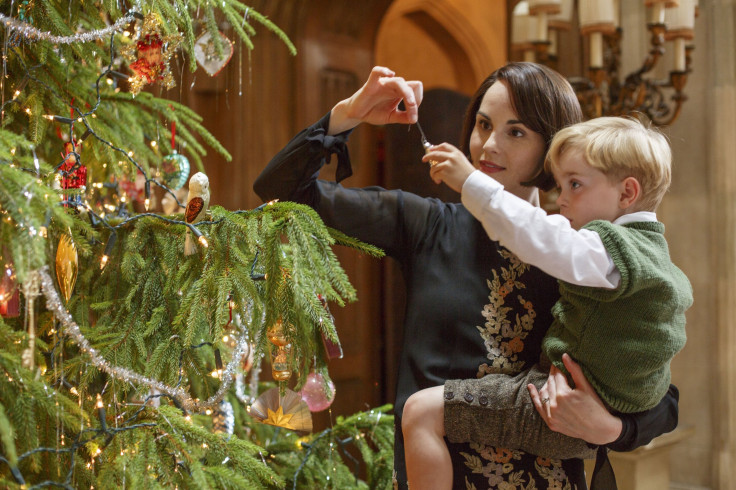 The Season 5 finale of "Downton Abbey" is guaranteed to bring the drama. "Downton Abbey" Season 5, episode 9, will be the Christmas episode, but the holiday season will be anything but relaxing for the family. We were able to watch the episode already, so we can tell you what scandals the Crawleys will or will not face this year:
1. Anna's Arrest – Anna (Joanne Froggatt) ended up in jail for Mr. Green's murder in the last episode, and Bates (Brendan Coyle) claimed she would be released soon. He'll end up falsely confessing to the murder to save his wife — but will someone be able to prove his innocence?
2. Tom's Future - Tom (Allen Leech) revealed in episode 8 that he had an offer from his brother to go work in America. He'll reach his final decision in the Christmas episode.
3. Illegitimate Child – Edith (Laura Carmichael) isn't the only one hiding the fact that she has a child. Someone else, who acts rather high and mighty, will reveal having a secret love child as well.
4. No Deaths – Don't worry about another Matthew Crawley situation. Everyone makes it out of the "Downton Abbey" Christmas special alive this year.
5. Mary's New Love Interest – Mary (Michelle Dockery) will finally have a suitor besides Tony (Tom Cullen) and Blake (Julian Ovenden), who both seem to have given up on her. This new suitor will turn up while the family is on vacation in Northumberland, so it isn't clear if this is a holiday fling or a potential husband.
6. Relationships – Someone upstairs will end a relationship in this episode while someone downstairs begins a new one. The new relationship isn't a courtship – it's an engagement. Let's just say they'll probably be a fan favorite couple in Season 6.
7. No George Clooney – Despite rumors to the contrary, George Clooney didn't appear in the Christmas episode. Instead, he appeared in a Christmas sketch for charity that has nothing to do with the episode.
"Downton Abbey" Season 5, episode 9, the season finale, airs Sunday, March 1, at 9 p.m. EST on PBS. Who do you hope will get together in the finale? Sound off in the comments section below!
© Copyright IBTimes 2023. All rights reserved.
FOLLOW MORE IBT NEWS ON THE BELOW CHANNELS