Draco Malfoy Actor Tom Felton Sorted Into Gryffindor On Pottermore; JK Rowling Responds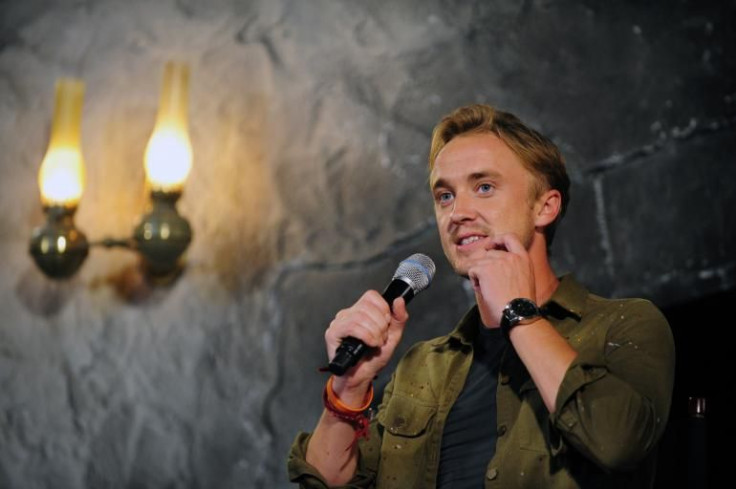 Draco Malfoy would not be pleased to hear this news: Tom Felton, who plays one of the main characters in the "Harry Potter" series, was sorted into Gryffindor on J.K Rowling's Pottermore site. All "HP" fans know Gryffindor is the house Harry belongs to and is much different than the Slytherin house Malfoy was sorted into.
The news arose after Felton, 27, took to Twitter to reveal that he finally visited Pottermore to get sorted "in real life." He broke the news on his account Wednesday. "Today was the day. I finally did it. I joined Pottermore and was sorted into........Gryffindor," he wrote. But the star wasn't happy to hear the news. "Heart broken x #slytherinforlife." He even shared a picture on his official Instagram account, where he showed a picture of the house he was sorted into. "Oh bollocks! x," he captioned the image.
Though it was a big shock for Malfoy -- er, Felton -- Rowling wasn't surprised to hear about the decision the sorting hat made. "I could've told you that years ago," the author said. "I just didn't want to spoil your motivation ;)"
Felton's fans have had a strong response. "You should've said 'Not Gryffindor, not Gryffindor' during the sorting!" one Instagram follower said, which is a reference to the opposite of what Harry said right before he was sorted. "Why just why," another one of his 684,000 followers wondered.
On Twitter, fans also had remarks to make. Check out some of their messages below:
Felton quickly moved on from the Gryffindor news. Hours later, he posted a photo to promote "Against the Sun," an indie movie that stars the British star about stranded World War II flyers.
Follow me on Twitter @mariamzzarella
© Copyright IBTimes 2022. All rights reserved.
FOLLOW MORE IBT NEWS ON THE BELOW CHANNELS