DramaFever Rides 'K-Drama' Craze To Challenge Netflix, Hulu With Niche Content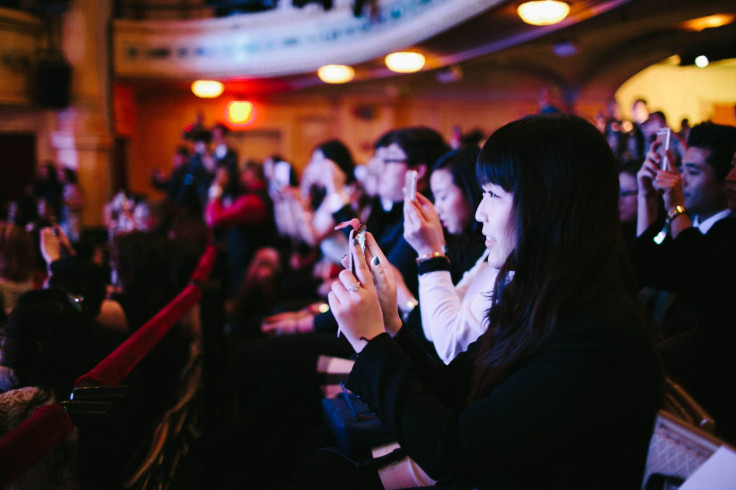 It seemed like the screaming never stopped at the third annual DramaFever Awards last week in New York. A sold-out crowd of more than a thousand people gathered at the Hudson Theatre in Times Square on Thursday to celebrate the most popular shows and actors available on a fast-growing video streaming service called DramaFever, and almost anything set them off: the mere mention of an actor's name, or the smallest snippet of dialogue from an iconic scene, caused howls to cascade out of the upper decks and down onto the stage.
In the space of just a few years, DramaFever has grown into the largest distributor of Asian video content in the United States. After building a beachhead with Korean dramas (also known as K-dramas), it has since expanded into telenovelas, children's content, documentaries, horror and full-length movies, licensed from some 60 content partners spread out across 12 countries. Later this year, it will debut TV series it developed in partnership with some of Korea's leading entertainment studios. "A couple of the largest studios in Korea are placing bets on us this year," company co-CEO Suk Park told International Business Times. "I'm really keen to see what happens."
By almost any measure, DramaFever has become an impressive digital media company. But in an era of all-you-can-eat subscriptions, how far can a specialty brand go, especially when it has to compete against the Netflixes and Amazons of the world, which are trying to offer users all the video they could want for a similar price point?
Rose From Humble Beginnings
DramaFever is not the only company to move in on Korean content, but it is the biggest. Though the company's two American-born CEOs, Seung Bak and Suk Park, began building its catalog out of scraps -- "In the beginning we licensed whatever we could get our hands on," Park said -- they now have a more than 15,000 episodes, comprising both classic fare as well as newer, more mainstream content.
"They're taking a particular genre and they're really organizing it well," said Ian Aaron, the CEO of MemeTV and the former general manager of Rdio's video streaming service Vdio, which dipped its toe into offering Korean dramas in the U.S. before it folded late last year. "There's a lot of opportunities for taking the long tail and building destination sites around it.
"It's kind of a chasm and it's not organized very well."
Organization, and a keen understanding of the space, is vital. Unlike American soap operas, which can run for years, or even decades, with a single cast of characters, Korean dramas are self-contained; each 16-to-24-episode season stands alone, and characters and story lines are almost never reprised.
That means understanding what kinds of shows and which actors are most popular with DramaFever's fast-growing audience, though the numbers suggest it has that keen sense. More than 20 million unique users consume its content every month, the company says, and its paid subscriber base has doubled in size each of the last three years, though company reps declined to give hard numbers.
Well Distributed (And Well-Insulated)
For the moment, it is also well-positioned to fend off potential competitors: DramaFever's would-be competitors, including iTunes, Netflix and Hulu, are licensing K-dramas from them. According to Yale Wang, DramaFever's head of marketing, the company has licensed "a couple hundred" series from its overall library of 800 to Hulu, while Netflix has selected "a couple dozen" series it curates on its own.
"We think it's very helpful to have a subset of our content in those platforms," Park said. "The more ubiquitous this content is, the better it is for the genre as a whole."
After viewers have burned through everything available on Netflix or Hulu, Park explains, there is another healthy pile of titles available for them on his platform. "When the audience says, 'I want to take a deeper dive,' they can come to DramaFever," Park said.
Company research would suggest those deep dives are common. A study conducted by DramaFever concluded its users spend nearly five times more minutes per month watching content on DramaFever than they do watching any kind of content on Netflix.
A Wide-Ranging Audience
"I got rid of my cable," said Piera Accumanno, a vice president at Deutsche Bank, who reserved a VIP table at Thursday's awards show. As a middle-aged white woman, Accumanno might not seem like the target demographic for DramaFever, yet she is not much of an outlier; 40 percent of DramaFever's audience is white, 30 percent is Latino and 15 percent is African-American.
Accumanno said she finds K-dramas relatable because their cultural values resonate with the ones she grew up with in Sicily. "The way they celebrate family and each other is very similar," she explained. Whatever her reasons, her commitment to the programming is deep. "I watch each episode three or four times," she said.
In that sense, Accumanno is very much like DramaFever's target demographic. Some viewers are so hungry for the latest episodes that even language barriers don't slow them down. "I watched an episode last night without subtitles," an attendee named Karyn Gates admitted Thursday. Gates, who began watching Korean dramas less than a year ago, said that while she has picked up bits of the language, she is not a fluent Korean speaker.
What she is, however, is a convert. "I can't watch American TV anymore," Gates said, explaining that the sentiment and energy of most Korean shows has affected her appetite for American television.
When it comes to K-dramas, there are many gateway drugs. While some of Thursday's attendees found their way in through friends that have Korean heritage, that was far from the most common point of entry. Some attendees got into them through a love of horror film. Others found their way thanks to Korean pop music, also called K-pop, which also is growing in the United States. Still others found their way in through Japanese dramas, which serve as the stylistic inspiration for K-dramas as a form.
Working On Original Series
DramaFever will be looking to take that enthusiasm for the shows and further entwine it with its own brand, when a number of original series it worked on with Korean content studios bow later this month. Choosing how or when to push its own content at the expense of what it knows its fans want will be a key challenge, but it is one the company feels confident about facing.
"I think right now," Park said, "we have a good sense on where to place large bets."
FOR FREE to continue reading
✔️ Unlock the full content of International Business Times UK for free
offer available for a limited time only
✔️ Easily manage your Newsletters subscriptions and save your favourite articles
✔️ No payment method required
Already have an account?
Log in
© Copyright IBTimes 2023. All rights reserved.