'Drunk Yoga' Combines Alcohol And Exercise In NYC
The yoga craze has reached new levels of quirky after a 45-minute class featuring an open bar debuted in New York City. Eli Walker, a yoga instructor, regularly teaches her 'Drunk Yoga' classes Saturday at the Grey Lady in the Lower East Side. Walker, 28, said she believed a jolt of liquid courage could help to make yoga more enjoyable for those too nervous to tackle it.
Standard yoga classes have become somewhat a thing of the past as more unique and eccentric classes have begun to emerge nationwide. These unconventional yoga courses are said to enhance the experience for the average person that isn't used to it. Walker's class, however, combines alcohol with vinyasa — a method of yoga that allows movements to form in a sequential flow in coordination with breath.
"Often when I meet new people and introduce myself as a yoga instructor, their first response is something to the effect of, 'Oh I can't do yoga — I'm not flexible' or 'I'm too scared to try yoga because I'm afraid I'll look silly,'" Walker told International Business Times on Thursday. "I'll try to convince them that one of the reasons to go to yoga is to become flexible and that during a yoga class, nobody cares if you look silly because everyone else is too distracted with trying not to look silly themselves!"
The concept initially formulated from a last-minute effort to get rid of her extra wine ahead of her annual yoga retreat in Bali, which jokingly involved giving the wine to her students. Walker then spoke with the owners at Grey Lady, where she worked her first post-college bartending gig, about organizing a wine event with yoga.
"I excitedly started to develop a fun yoga sequence for beginners that incorporates drinking games for this event, for the sole purpose of inviting New Yorkers to try yoga in a fun environment who wouldn't otherwise come to class, giving them full permission to "look silly" — secretly as a ploy to introduce them to yoga as a tool to empower them with more conscious movement," Walker said.
The course has grown in popularity, which led Walker to contemplate expanding the wine and yoga course.
"I had no intentions of expanding this event, originally," Walker told IBT. "But, now that it's become so popular, I'm considering ways to incorporate this whole-heartedly entertaining class into my workshops and retreats when I travel domestically and internationally."
Walker's course has attracted yogis and non-yogis alike, but her class isn't the first to put a spin on the meditative exercise, as there are many classes dedicated to boozy yoga across America. There are also several yoga courses that combine the therapeutic exercise with another quirky element.
Beer and Yoga
Beer and yoga courses have popped up all over the U.S., and New York's Brew You Yo, in particular, explores the ways in which aspects of the yoga practice relate to participants' favorite brews. Held at The Bronx Brewery, the one-hour course prides itself on being a great way for students to earn their first couple of beers.
Cat Yoga
Meow Parlour in Brooklyn, New York, offers on-going yoga classes with cats and kittens. The 45-minute Vinyasa flow course is taught on Wednesday, Thursday and Sunday. Participants are given a 30-minute period to play with the cats ahead of the yoga session, with an additional 15 minutes of play during the cool down portion. Crumbs & Whiskers offers a similar course at its shops in Los Angeles and Washington D.C.
Naked Yoga
Co-ed naked yoga classes exist at Bold & Naked. The New York-based studio is well-suited for individuals that are looking for "quality driven, powerful, bold and naked yoga workout," according to its website.
Goat Yoga
The Wobbly Goat in Seattle offers a weekly two-hour yoga session with goats. Goats wander about as participants work with a trained instructor during the first hour, whereas the second hour allows students to spend time with the furry animals.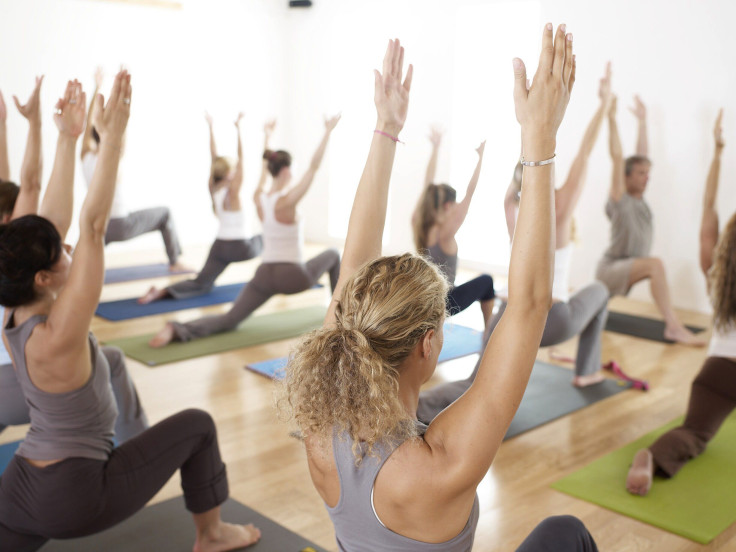 © Copyright IBTimes 2023. All rights reserved.