Duggar Christmas Photo Features Josh Duggar's Baby Girl As '19 Kids And Counting' Star's Whereabouts Remain Unknown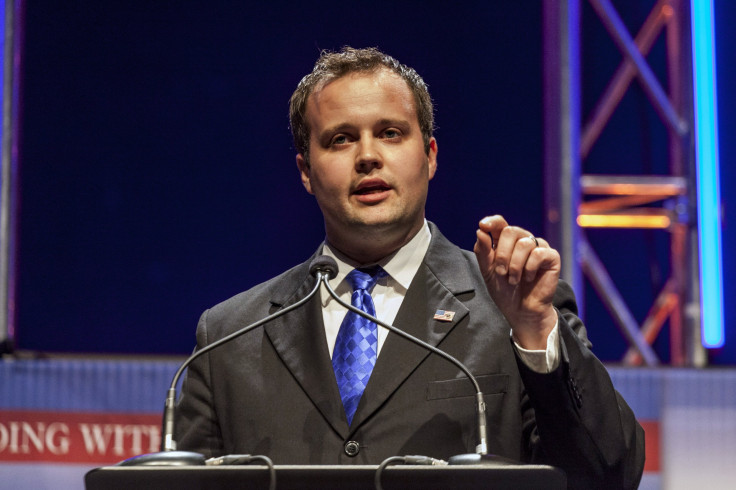 The Duggars are in the holiday spirit. Former "19 Kids and Counting" stars Jim Bob and Michelle Duggar revealed to their Facebook fans this week they're prepping for Christmas by decorating their Arkansas abode. Their announcement came the way of a photo of their youngest granddaughter.
"It looks like someone is trying to help put the final touches up for Christmas decorations!" the couple captioned a shot of their eldest son Josh Duggar's daughter Meredith Grace. The 4-month-old can be seen sporting a headband made of gold, glitter ribbon and surrounded by lit garland in the photo. The picture update of Josh and his wife Anna Duggar's youngest daughter appeared to thrill fans of the former TLC series. As of Wednesday afternoon, the photo had over 23,500 likes on their fan page.
"Babies really make Christmas so special," one fan wrote. "A darling for sure!" said another Facebook fan. "Such a blessing to be surrounded by so many children for truly Christmas is best enjoyed looking at it through the eyes of innocent children."
The Duggars continued their update of Josh and Anna's children by sharing a photo of their grandson Marcus online Tuesday. The image showed Marcus, 2, sporting his 18-year-old aunt Joy-Anna Duggar's black glasses inside his grandparents' home. "It looks like Joy found where her glasses run off to!" Jim Bob and Michelle wrote.
While Josh and Anna, both 27, have social media accounts, neither have shared updated images of their four children, which includes Mackynzie 6, and Michael, 4, since August. As most "19 Kids and Counting" fans are aware, Josh was involved in two scandals this year. In May, it was revealed that he molested several underage females, a few of his victims being his sisters, as a teenager. Less than three months later, his name was attached to the Ashley Madison hack, which revealed he had paid accounts on the cheating website.
Josh, who admitted to his wrongdoings in a statement on Aug. 20, is believed to be in rehab. Gawker reported in August that he was receieving treatment at Reformers Unanimous recovery center in Rockford, Illinois, though this has not been confirmed by the Duggars. Anna's whereabouts are also unknown, but she will cameo on her sister-in-laws' three-part TLC special," Jill & Jessa: Counting On," this month. The first episode airs Sunday at 8 p.m. EST.
© Copyright IBTimes 2023. All rights reserved.