New Details Emerge In Josh Duggar Ashley Madison Scandal; Former '19 Kids And Counting' Star Paid For 'Affair Guarantee'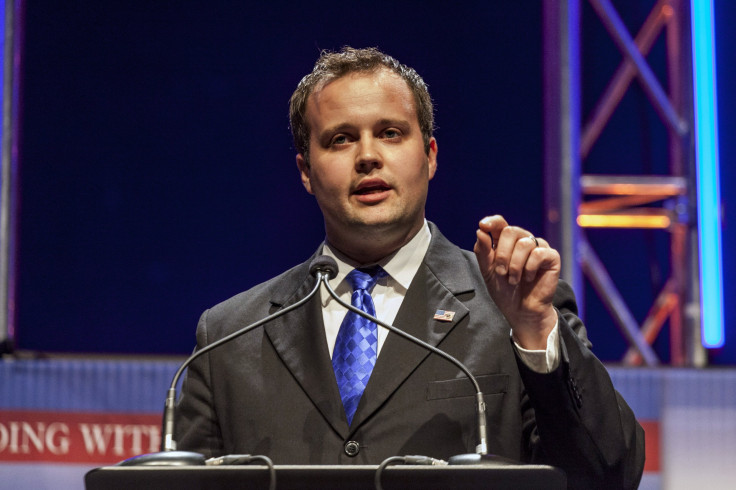 New details have emerged regarding Josh Duggar's profile on Ashley Madison. On Wednesday it was revealed that the former "19 Kids and Counting" star had been on the notorious adultery site since February 2013 and canceled his account in May 2015. He admitted to having been unfaithful to his wife Anna Duggar, chalking it up to his pornography addiction. Now the latest reports suggest that Josh, 27, went to great lengths to ensure he would be able to have extramarital affairs through the website.
According to new information posted on People, a portion of the $986.76 Josh paid for his two subscriptions went toward an "affair guarantee." The site claims the eldest Duggar child paid $249 for the feature. According to Ashley Madison, paying for the guarantee helps "increase your chances of having an affair from possibly to definitely." If users who pay the fee don't successfully have an affair, they are promised their money back.
As we previously reported, Gawker broke the news about the accounts, sharing images that linked a credit card registered to Duggar to Ashley Madison. They were also able to link a Fayetteville, Arkansas, address on the site with his grandmother, Mary. He is said to have ended his subscription to the service around the same time news broke that he had molested five young girls, including two of his sisters, when he was 14. Josh and his parents, Jim Bob and Michelle Duggar, have spoken out about the most recent scandal to rock their famous family.
Josh released a statement on the family's website on Thursday in which he called himself "the biggest hypocrite ever." He admitted to having been unfaithful and living a "double life." Josh apologized for hurting Anna, as well as their fans. Jim Bob and Michelle released a statement of their own in which they requested privacy during this difficult time and assured fans they had put their trust in God to handle this devastating situation. Anna, who gave birth to her fourth child with Josh on July 19, according to Us Weekly, has yet to speak out about her husband's cheating.
Many fans are wondering whether or not Anna can -- or will -- leave Josh after his latest scandal. It has been reported that Anna has not even considered ending their marriage and has turned to God now more than ever. Sources told People she and Josh were "probably praying around the clock."
© Copyright IBTimes 2022. All rights reserved.
FOLLOW MORE IBT NEWS ON THE BELOW CHANNELS