DV Invest Smart Investment App To Debut At CES 2023
KEY POINTS
The app combines the diversification of DeFi and the regulation and safety of traditional finance
It also provides a wide range of investment opportunities
It is set to offer an early-bird pre-sale campaign in January 2023
Davensi, a Web3-based finance powerhouse providing risk-monitored and high-performance financial services, has announced its participation at the upcoming Consumer Electronics Showcase (CES) 2023 in January and the launch of its new smart investment app dubbed DV Invest app.
With centralized exchange platforms and services taking the heat following the FTX meltdown, many investors now consider using decentralized products for safety and security. Amid this, Davensi is introducing a new product that offers "innovative and sensible financial products while meeting conventional financial regulatory standards."
Developed to optimize investors' experience in the Web3 space, Davensi is also launching the DV Invest app, which combines the diversification of decentralized finance (DeFi) and the regulation and safety of traditional finance.
The new app, which is a part of the company's DV Suite, provides a wide range of investment opportunities including cryptocurrencies, non-fungible tokens (NFTs), security tokens and tokenized assets.
The app is structured based on Environment Sustainability Governance (ESG) criteria, a term used to highlight that the company's financial interest is centered on sustainable and ethical standards.
Investors can also rely on the app's helpful investment strategies, which use smart AI/ML-based portfolio management automation tools curated by data scientists and quantitative researchers.
DV Invest app is scheduled to offer an early-bird pre-sale campaign in January 2023 with the product set to go live sometime in Q3 2023.
"Collectively, we have been destroying the world for the sake of progress, and at Davensi we believe it's time to make the transition to Web3 for a more socially responsible world," Davensi CEO Sopheap Lao said.
"We believe that through Web3 and decentralized finance (DeFi) we can power a more sustainable economy that is globally inclusive, because it is available to everyone, and locally because it is adaptable to ethical, cultural and even religious principles," the executive added.
Davensi is the title sponsor of the Cryptocurrency and Digital Assets program within the Venetian Expo at the CES 2023 in Las Vegas, so Lao will give a keynote speech at the event on Jan. 6. This will be then followed by a product presentation and a panel discussion centered on balancing innovation and regulation in the crypto space and how blockchain positively impacts the world.
Davensi CMO Gaëlle Van Hieu will also be at the showcase, and she will join the Who Are Web3 Consumers panel discussion.
Set on a mission to "transition to Web3 for good," Davensi, originally named LordToken, is a compliance-ready Binance Cloud-based centralized crypto exchange platform with Web3 orientation developed by Lao, who is a FinTech veteran.
"Davensi is a tribute to Leonardo Da Vinci as it requires a lot of ingenuity and intelligence to win in the Web3 space," Lao said.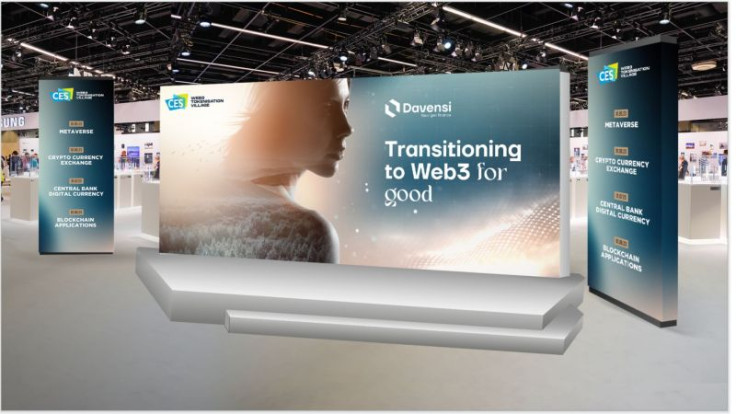 © Copyright IBTimes 2023. All rights reserved.