Dylan Sprouse Leaked Photos Are Real, Disney Star Owns Up To Nude Pictures On Twitter: 'I Messed Up'
Dylan Sprouse, of "Suite Life of Zack and Cody" and "Big Daddy" fame, appeared to have been the victim of a hack over the weekend after two nude photos were leaked online. But the former Disney star fessed up on Twitter late Sunday night that it was indeed him in the scandalous pictures posted to Tumblr.
"Whoops, guess I'm not 14 and fat anymore," he wrote. "I messed up … but I'd be a fool not to own up to it. Got to move past it I suppose."
He then joked: "At least you can't see my third testicle."
The leaked selfies show the now 21-year-old Sprouse in two compromising situations: one flexing his muscles in a pair of white boxer shorts. Another photo shows him fully nude, exposing most of his private area though his hand is covering.
The photos, which were removed from Tumblr, are still online, of course, immortalized in search, Twitter and gossip blog Perez Hilton. (Warning, the full frontal photo is NSFW.)
It's unclear whether Sprouse posted the photos willingly or if they were leaked, but the Hollywood Gossip reported that "an old flame" hacked his account and posted the nude photo to his now more than 800,000 followers.
Many were shocked to see the nude images of Sprouse, who hasn't been on television or in movies since 2008, when "The Suite Life" show officially ended.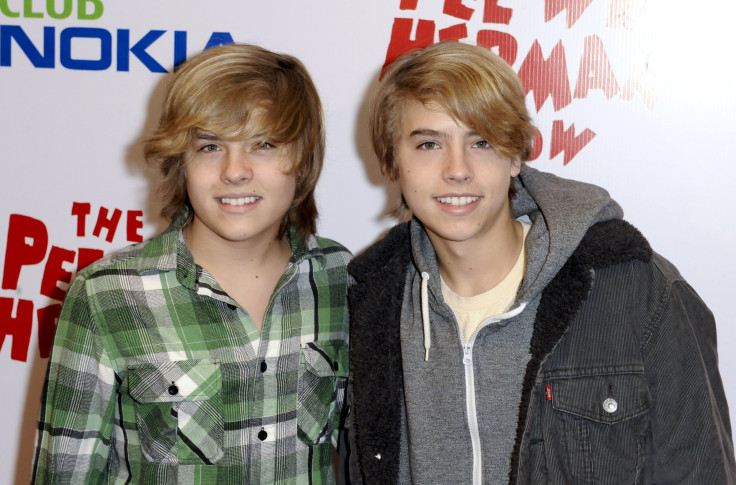 On Tumblr, Sprouse reposted some of the funniest tweets he received after people saw the messages and wrote: "Thanks for making me laugh through all of this."
Even Sprouse's twin brother, Cole, joined in to poke fun at his brother on Twitter. According to Us Weekly, he tweeted: "Cold in the bathroom huh?" That tweet was deleted by Monday morning, but Dylan's response is still posted: "@colesprouse Love you too."
Cole wrote back: ".@dylansprouse now they've basically seen me naked which is weird I guess."
Sprouse is studying Video Game Design at New York University and works at a restaurant in NYC, according to Extra. On Monday, he also added "n00d pic dealer" to his Twitter bio as a joke amid the nude photo scandal.
Sprouse isn't the only Disney star to have nude photos leaked -- shedding his squeaky clean persona -- just as Demi Lovato, Miley Cyrus and Vanessa Hudgens did before him.
In 2007, photos of Hudgens famously leaked online, which mortified the former "High School Musical" starlet.
"Whenever anybody asks me, would I do nudity in a film, if I say that it's something I'm not comfortable with, they're like, 'B-------, you've already done it.' If anything, it makes it more embarrassing, because that was a private thing," Hudgens told Allure magazine years later. "It's screwed up that someone screwed me over like that. At least some people are learning from my mistake."
© Copyright IBTimes 2023. All rights reserved.
FOLLOW MORE IBT NEWS ON THE BELOW CHANNELS