Easy And Simple Halloween Costumes 2016: 10 Ideas For Last Minute Parties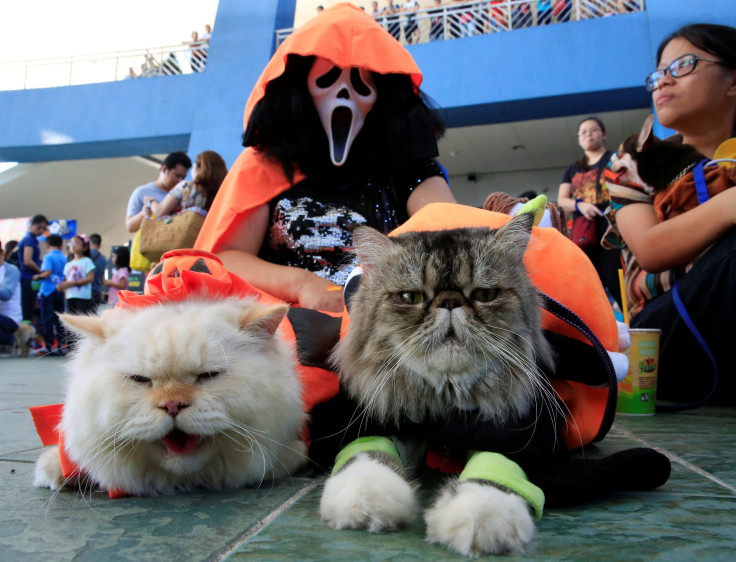 Anyone hoping to get into the Halloween spirit at the last minute may encounter a very familiar problem: You kind of need to wear a costume if you really want to blend in.
Luckily, there are plenty of options out there for anyone looking to skirt the rules a bit and head out for some trick-or-treating with minimal preparation and minimal costume shopping.
Here are 10 solid ideas for the last-minute (or lazy) Halloween enthusiast.
A Witch: Grab a black shirt and a witch hat (maybe a broomstick, too) and you're pretty much good to go. Don't use a newer broom stick, though, that's tacky.
A Ceiling Fan: If you have a white shirt you don't mind ruining, you can grab a Sharpie and write the word "ceiling" on it. Voila, once that bad boy is on your torso, it'll look like you're a "ceiling fan." Get it?
God's Gift to Men/Women: Make a giant tag, run a long string around it like a necklace and then write "To: [Gender]" and "From: God" on the tag. It's super tacky but it's also super easy.
A Ghost: All you need is a white bed sheet and some scissors. Cut a couple holes in the thing and put it over your head and, boom, you have a ghost costume (disclaimer: In this political climate, there are no guarantees that your costume will be understood immediately). The folks at BuzzFeed had a variation on this to make it A Dead Game of Thrones Character costume: add a "Hello my name is" nametag sticker with the name of the character.
Jazzerciser: This should maybe be filed under "easy 80s costumes," but here we are. Get a headband, pull your hair into a side pony tail and grab all of the neon wear and leg warmers you can find. Congratulations, you look like you are headed to Jazzercise.
Skeleton Face: You really only need black makeup, white makeup and a mirror to turn your face into a skeleton.
Rosie the Riveter: Rosie the Riveter just requires a denim shirt, a bandana and a smile. You can opt to write up a "We Can Do IT!" backdrop on foam board that you can attach to your back with some string if you want to go all-out.
Robber: Grab a black beanie, a black sweater, some gloves and you're pretty much already dressing up as a stereotypical robber. If you have black makeup lying around you can paint on a mask to enhance the effect and make sure it is harder for the cops to find you.
White Trash: This costume involves a white trash bag and a marker. Make that bag a shirt and write "white trash" on it to make sure everyone knows what you're going for there.
Facebook: This idea was popularized by Jim from "The Office," who was notorious for not wanting to put on a costume of any real difficulty. Take some black makeup paint and write "book" on your face.
© Copyright IBTimes 2023. All rights reserved.