Eid al-Fitr 2015 Date: Why Some Muslims Celebrate End Of Ramadan On Different Days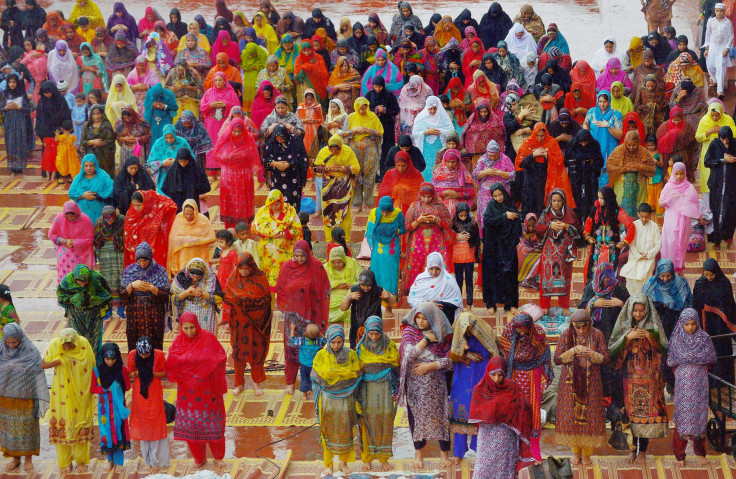 After a long month of fasting from dawn to sunset every day, Muslims around the world rejoice in Eid al-Fitr. Marking the end of the holy month of Ramadan, Eid al-Fitr (commonly shortened as "Eid") is a festive holiday in which Muslims revel with family and friends -- often with all kinds of delectable foods.
But to non-Muslims, the celebration can seem peculiar in one way: Not all Muslims throughout the world observe the holiday on the same day. This year, some Muslims will mark Eid on Friday, while others will undertake one more fast and celebrate Eid on Saturday.
Why the discrepancy? Each month in the Islamic calendar (which consists of 12 months) commences with a new cycle of the moon. The date for Eid al-Fitr, the first day of the month that follows Ramadan, is determined based upon the sighting of the new moon, which can vary in different parts of the world. In some Muslim countries, religious councils determine the moon sighting. Some Muslims wait as the end of the month nears to hear when the Eid date will be.
But there are several generally accepted methods for determining the date, experts say, including the actual sighting of the moon or calculating the birth of the new moon.
"In general, the basis is that a new moon should be visible to the naked eye if weather conditions permit," said Harris Zafar, a spokesman for the Ahmadiyya Muslim Community USA, which plans to celebrate Eid in North America on Saturday, based on U.S. Naval Observatory calculations. "This usually means that the age of the moon is about 20 hours or more. The astronomical new moon which is calculated -- just like the sunrise and sunset -- is not visible to the naked eye. The date of the new moon which is 20 hours or more can also be accurately calculated. This is how we are able to calculate the dates early on in the year."
Many such organizations, especially in the Western world, take astronomical calculations into account and set their dates for Eid ahead of time.
"Some communities follow a global sighting -- so if anyone around the world has seen the new moon, that's the date. Others might focus on a local moon sighting," said Edgar Hopida, communications director for the Islamic Society of North America.
ISNA follows guidance from the Fiqh Council of North America, which relies on astronomical calculations of the moon sighting in Mecca, the city in Saudi Arabia that is the birthplace of Islam.
© Copyright IBTimes 2023. All rights reserved.