Eid Al-Fitr 2017 Quotes, Greetings And Wishes: Eid Mubarak As Muslims Mark The End Of Ramadan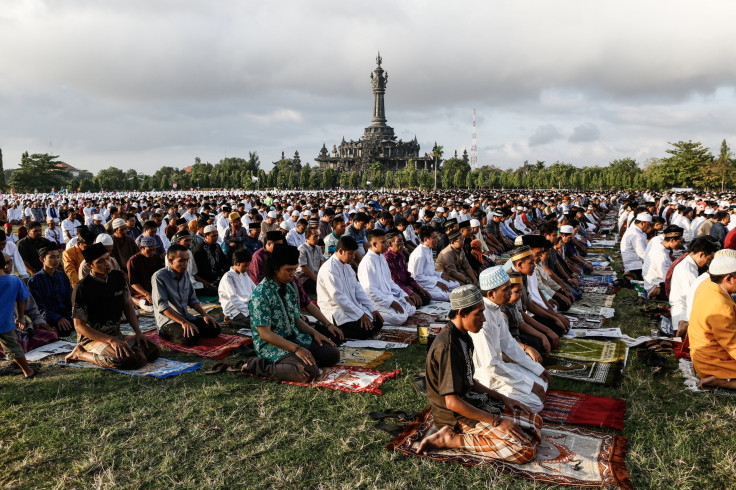 Eid al-Fitr, which marks the end of the holy fasting month of Ramadan, is here and Muslims around the world will celebrate this day with prayers, sharing gifts with family and friends and doing charity work. Not all the countries will celebrate Eid on Sunday though. Countries like Bangladesh, India and Pakistan will celebrate Eid on Monday.
On Saturday evening, the White House issued a statement to mark the end of Ramadan. Eid will be celebrated in the Middle East, Europe, and the U.S. on Sunday.
Read: Eid Al-Fitr 2017 Date, Moon Sighting
"Muslims in the United States joined those around the world during the holy month of Ramadan to focus on acts of faith and charity," the statement read. "Now, as they commemorate Eid with family and friends, they carry on the tradition of helping neighbors and breaking bread with people from all walks of life. During this holiday, we are reminded of the importance of mercy, compassion, and goodwill. With Muslims around the world, the United States renews our commitment to honor these values. Eid Mubarak."
The start of Eid celebrations varies each year among countries based on moon sightings. Eid al-Fitr traditionally begins with prayers known as Salat al-Fitr.
Typical sayings during the Eid holiday include "Eid Mubarak" which means "Blessed Eid" while another saying happens to be "Eid Said" which means "Happy Eid."
Here are some wishes and greetings to share on Eid al-Fitr, courtesy of the likes of Greetings.com, Metro and others.
1. "May the blessings of Allah fill your life with happiness and open all the doors of success now and always. Eid Mubarak!"
2. "May God give you happiness of heaven above. Happy Eid Mubarak To You All."
3. "May this special day bring peace, happiness and prosperity to everyone. Eid Mubarak!"
4. "May Allah's blessings be with you today, tomorrow and always. Eid Mubarak!"
5. "Show forgiveness, speak for justice and avoid the ignorant." - [Quran, 7:199]
6. "Those who believed and led a righteous life are the best creatures." - [Quran, 98:7]
7. "Hold to forgiveness, command what is right; but turn away from the ignorant." - [Quran, 7:199]
Read: When Does Ramadan 2017 End?
8. "May the magic of this Eid bring lots of happiness in your life and may you celebrate it with all your close friends & may it fill your heart with wonders. Eid Mubarak"

9. "Let this Eid open your mind with new fresh thoughts."
10. "If they seek peace, then seek you peace. And trust in God for He is the One that heareth and knoweth all things." - [Quran 8:61]
© Copyright IBTimes 2023. All rights reserved.