Election 2016: Chris Christie Delivered Profanity-Laced Tirade At NJ Press Dinner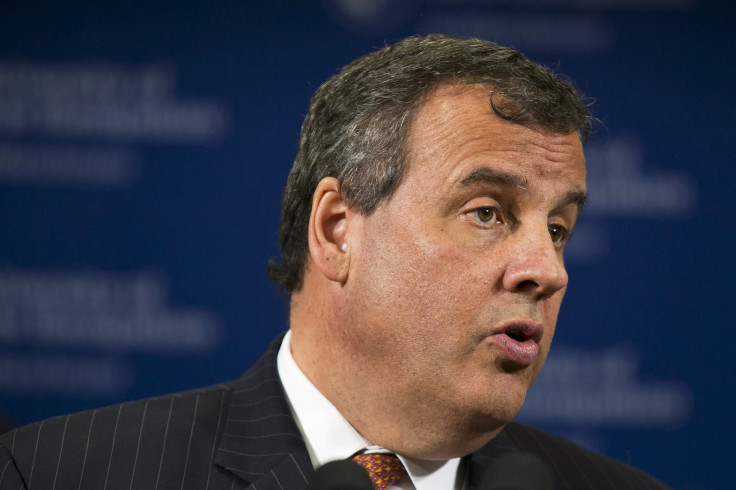 WASHINGTON -- Gov. Chris Christie, assuring reporters that he is still planning a 2016 presidential campaign, delivered a profanity-laced roast about the New Jersey press corps on Wednesday night at the annual New Jersey Legislative Correspondents Club Show, according to an audio recording of the speech obtained by International Business Times. Even attendees used to Christie's brusque demeanor thought the speech was unusually biting.
Christie told reporters at the dinner that he "just doesn't give a s---" about them. Organizers said the event was officially off the record, although many attendees, based on previous years' experience, believed it to be on the record. In any case, when you're running for president, nothing is ever off the record. Ask Mitt Romney, whose comments about the "47 percent" at a fundraiser closed to the press went viral.
It's a tradition of the New Jersey press corps to hold an annual fundraiser for scholarships. It's all supposed to be in lighthearted fun. The reporters wear costumes and perform dances; the governor gives a speech. Lobbyists, media organizations and politicians buy tables for the fundraiser.
Christie, now in his seventh year as governor, seems to have tired of the event. "Anything that gets me off this f------ stage next year, I'm willing to do anything," Christie said. "Why do you think I might run for president? Cause I don't know what primary is in May 2016 next year, but if I'm at 1 f------ percent, I will be there."
Christie joked about how candid he was being. "I can be like this tonight on the record because [Christie Communications Director] Maria Comella is not here, because let me tell you everybody -- I'm as scared of her as all of you are," Christie said.
He poked a little fun at coverage of the "Bridgegate" scandal when he told the reporters who organize the event that they should change the format next year. "The trial will probably be over by then, so you guys won't have anything left to talk about," Christie said.
In past years, Christie has made a video for the event, including one he did with Cory Booker that went viral after his office released it online. But Christie told the roomful of reporters that he wasn't interested in producing more videos.
"The reason we don't have a video is that we just don't give a s--- anymore," Christie said."We don't give a s--- about this or any of you."
At the top of the list of things Christie said he didn't care about any longer was Claude Brodesser-Akner, a reporter for NJ.com who serves as the correspondents association president. "I'm not even going to try the last name, not because I can't pronounce French last names or whatever it is, but because, again, I don't give a s---," Christie said.
Christie mocked Brodesser-Akner for having worked at the gossip website TMZ, and pushed back at complaints that reporters aren't told where Christie is at times. (He has traveled extensively in his role as the head of the Republican Governors Association.)
"This is a guy who says he doesn't know what I'm doing every day," Christie said of Brodesser-Akner. "Then just get the f--- away from me. Every time I turn the corner in New Hampshire, you and that beard are there. So here's my suggestion: Open your eyes, clean the s--- out of your ears, and pay attention."
Christie ridiculed The Star-Ledger, the state's largest newspaper. "I actually think that tonight on full display with both the compassion and bipartisanship, they showed you tonight and through their employment practices they don't care if you are a conservative like Paul Mulshine or a liberal like Tom Moran," Christie said. "There will always be a place and a paycheck in their paper for angry drunks."
He focused much of his ire on Mulshine, a conservative columnist at the paper who often criticized Christie for being too liberal. Mulshine, according to several attendees at the event, sang a song questioning the sexuality of U.S. Sen. Cory Booker. During his first campaign, Booker addressed rumors that he was gay, telling The Washington Post that the rumors help him address homophobia.
"Tonight, a song on Cory Booker being gay, oh, you have really reached a new high, pat yourself on the back," Christie said sarcastically. "That was really interesting tonight, guys."
Mulshine, in response to an IBTimes inquiry about the song and Christie's remarks, said he understood the event to be off the record. "This is a satirical show and politicians are fair game," Mulshine said in an email. "It was Booker himself who brought up the issue of his sexual identity and in a most unusual context." And he denied being an "angry drunk," insisting he writes his columns on caffeine and turns to beer only when he gets his state tax bill.
The governor also mocked NJTV reporter Michael Aron, considered the dean of the Trenton press corps, for trying to ask him a question while he was working the rope line after an event in New Hampshire.
"He said, 'Governor, it's my birthday, please as a birthday present would you answer a question for me,' " Christie said. "Just to show that I'm not the heartless bastard I was portrayed as tonight, I said sure Michael, I'll take your question."
"He looks at me and goes, 'So how is New Hampshire?' Are you f------ kidding me? The rest of these jokers are in the back cracking up. … Seriously, that is what he came up with. I was absolutely stunned."
Asked about Christie's speech, his spokesman, Kevin Roberts, issued a statement. "All of the songs and acts of the night, including the Governor's obvious parody of himself, were in jest and along with the spirit of the evening," he said.
© Copyright IBTimes 2023. All rights reserved.