Election 2016: Jeb Bush Donors Balk At Pricey Demands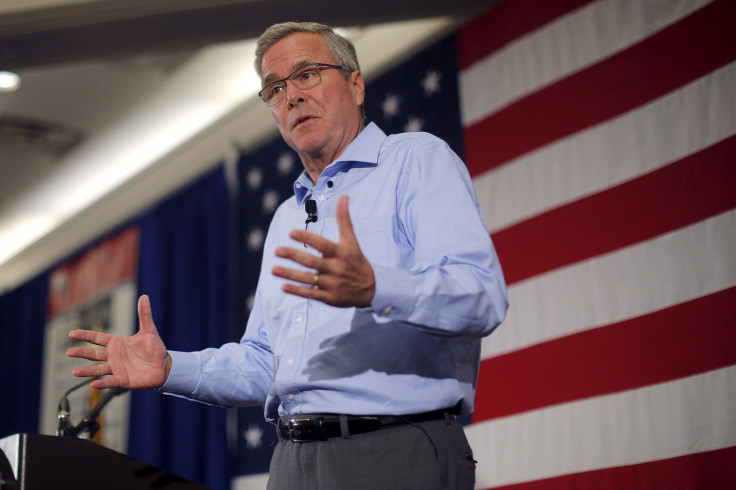 WASHINGTON -- As Jeb Bush tries to amass a big enough fundraising haul to intimidate his GOP presidential competitors, his demands are rubbing some supporters the wrong way. Mid-level Republican donors are feeling priced out and ticked off, because Bush is asking for sizable sums without offering the expected courtesies in return. Several Republican insiders -- none with ties to GOP 2016 hopefuls and some of whom have worked for the Bush family in previous campaigns -- told International Business Times about incidents where once-reliable donors have begun to balk at requests from Bush's team.
"Gov. Bush has not made a decision on if he will move forward with a potential campaign," said Allie Brandenburger, spokesperson for Bush, when asked about donor unhappiness. "He is encouraged by the support he has received from a broad range of stakeholders across the country."
Bush is still likely to announce impressive fundraising totals when his Right to Rise PAC reveals its first quarter fundraising totals -- potentially hitting the target of raking in $100 million by March 31.
The 2016 candidates, including Bush, are operating in virtually unchartered waters. A declared candidate is constrained by federal election law, which limit the biggest checks to about $62,000, which must be divided between the candidate, the party and other local funds. A primary candidate -- who isn't working with the party -- was historically limited to individual contributions of $2,600 per donor. Super PACs have no limits on accepting large-dollar donations thanks to the 2010 Citizen's United decision by the Supreme Court. Declared candidates can't coordinate with super PACs, but they are permitted to fundraise for them. While super PACs existed in 2012, it wasn't until this year that candidates began to embrace them as a substitute for an exploratory committee. Bush has been raising money for the PAC -- and insisting he isn't yet a decided candidate -- which means he can court donors for much larger amounts and isn't limited by federal law.
The complaints about Bush's tactics aren't coming from the kind of people who write checks for $250 or $2 million. Low-dollar donors don't expect to interact with the candidate, and party insiders say the big-money folks are still getting top-notch treatment: personal meetings and phone calls from the former Florida governor, and access to other influential supporters.
The concern comes from the kind of donors or lobbyists willing to write a mid-sized check -- about $5,000 to $15,000 -- with the expectation of getting a phone call from the candidate or a little face time at an event. That interaction provides bragging rights; it also gives supporters a chance to lobby, even if only for a minute, for their pet cause.
The donors then feel more invested in the campaign, presumably, and are more likely to help recruit money and votes. Bush's brusque approach may alienate possible supporters and drive donors to his opponents. Even for a campaign, or its PAC, that is drawing in millions of dollars, when the race gets competitive,
every dollar counts
. One more $5,000 donation can mean a few more television ad points.
There is a certain accepted choreography to the fundraising process. Mitt Romney brought in record-setting hauls. Much of it was done through his near-daily attendance at receptions, dinners and lunches. For example, in May 2012, soon after securing the Republican nomination, Romney held a fundraiser in Kansas City. B.B. Andersen, a former "Survivor" contestant, gave the introduction, and George Brett, former Kansas City Royal, attended and took pictures with fans. Ticket prices started at $2,500, which bought dinner and a Romney speech. There were 475 attendees at dinner. For a little more, you could have your picture taken with Romney. He took 120 photos that day. And for the top ticket price of $50,000, you could get one-on-one time with the candidate.
Don't look for that kind of flattering attention at a Bush event. For one thing, admission is far pricier. Last month, Bush's campaign held a breakfast fundraiser in Florida that required $250,000 simply to get in the door, said one Republican strategist who has worked on multiple presidential campaigns. The strategist said that some attendees who normally attend GOP campaign events balked. One invitee joked about the high cost of entrance, said the strategist, asking, "Can I do coffee?"
A pair of March fundraisers for Bush -- one that included his former president father and another that included his former president brother -- required couples to raise $100,000 to attend. Jeb Bush also held a Wall Street fundraiser in February, which demanded an "eye-popping" $100,000 per ticket.
Another Republican strategist described complaints from a Washington donor who was asked by a Bush bundler not only to donate a large sum himself but also promise of support from advocacy groups to which he had ties. There was a strong suggestion of being shut out politically if they didn't get on board, the strategist said.
"I'm not sure if they are desperate or it's just Florida politics gone national, but it won't win you the White House," the strategist said.
© Copyright IBTimes 2022. All rights reserved.
FOLLOW MORE IBT NEWS ON THE BELOW CHANNELS