Election 2016: Jeb Bush Speech Denouncing Lobbyists Was Organized By Corporate Lobbying Group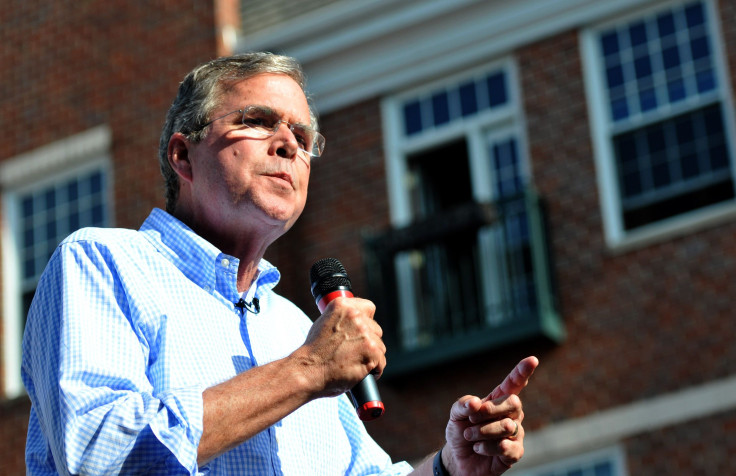 In his speech in Tallahassee, Florida, on Monday denouncing the influence of lobbyists, Jeb Bush neglected to mention one critical detail: The event was organized by a powerful corporate lobbying group that has helped financially support his White House bid.
Speaking at Florida State University, the former Florida governor derided what he called the capital city's "comfortable establishment" that leverages lobbying power to unduly shape public policy. "I was a governor who refused to go along with that establishment," Bush said.
Bush was touting his clean-government credentials at a function organized by the Florida Chamber of Commerce, a private lobbying group for the state's business community. Emails obtained by International Business Times show that Bush's campaign coordinated the event with the chamber, whose political committee has donated to a super PAC backing Bush's bid for president.
Jeb Bush Presidential Candidate Profile | InsideGov
The Florida Chamber of Commerce spent nearly $200,000 lobbying Florida lawmakers last year, and the group's political committees have spent roughly $5.6 million to influence state elections since 2013. The chamber also employs a Florida lobbying firm -- composed of former government officials -- that is a top Bush campaign donor.
David Hart, a chamber lobbyist and former Bush aide, told IBTimes that the event was not arranged by the chamber because it feared that Bush publicly promoting his presidential campaign to the corporate advocacy group might run afoul of federal campaign laws.
"Originally we were planning to host the governor for a speech," Hart said. "Obviously we worked closely with the governor over the years. But the content of his speech made it -- because of federal election rules -- made it impossible for us to host such an event."
A representative of the Bush campaign told IBTimes that "the Florida chamber did not host the event."
But two Florida State University officials separately told IBTimes that the chamber arranged the event at the public university. The school provided emails exchanged with chamber officials that appear to confirm that the chamber organized the event on behalf of Bush's campaign, and coordinated with the campaign on the event.
'This Will Be A Florida Chamber Event'
"This will be a Florida Chamber event," wrote Florida Chamber of Commerce economic development aide Carolyn Johnson to FSU officials. "However, Jeb Bush's team has requested to pay the invoice and be the name on the contract. This is to avoid any legal gray areas."
The chamber emails show officials at the business lobbying group coordinating with a Bush campaign aide on Bush's government ethics event at FSU.
"I have copied [Bush campaign aide] Jamie Carroll who will be the point person on their end and I will continue to be the point person for the Florida Chamber and be present at any walkthroughs and throughout the event, and we will have our staff helping work the event," Johnson wrote.
Pressed about the emails, Hart said: "Our staff did not organize the event at FSU."
Hart was insistent on this point -- and said that his organization had planned to host Bush's speech at the state Capitol. The Florida Chamber did reserve another nearby room at FSU where Bush stopped by after his speech, Hart said.
"The governor wanted to say hello to some of his old friends from the chamber board and chamber staff," he said.
Earlier, Hart said around 20 chamber employees attended Bush's speech.
"The Florida Chamber is a great organization of Florida businesses that were largely supportive of Jeb Bush's efforts as governor to create one of the most pro-growth climates in the nation and a leader in job growth. It's not surprising that many members of their organization attended Governor Bush's speech," said a Bush representative.
Through The Revolving Door
While Bush explicitly slammed legislators who become lobbyists, his speech was hosted at a public university whose president is John Thrasher, a former state Republican Party chairman who became a lobbyist at the Southern Strategy Group after serving as Florida House speaker. Thrasher later left Southern Strategy and went back through the revolving door, first to the state legislature and then to the $430,000-a-year public-sector job at FSU. Thrasher was given the job in 2014 by appointees of Republican Gov. Rick Scott, whose election campaign Thrasher chaired.
The Southern Strategy Group currently lobbies for the Florida Chamber of Commerce. It also bankrolled the Florida Republican Party while Bush was governor and its lobbyists are now among Bush's top presidential campaign donors.
Though Bush on Monday said lawmakers and lobbyists "grew a little too comfortable" in Tallahassee, emails from Bush's tenure as governor show Thrasher and other Southern Strategy Group lobbyists helping Bush and his administration shape state policy while the firm moved campaign cash into the coffers of the Florida GOP.
According to campaign finance records, Bush has raised hundreds of thousands of dollars from lobbyists for his campaign -- and that does not count yet-to-be-disclosed contributions to the super PAC backing his White House bid. Southern Strategy Group lobbyists are together the third-largest source of Bush campaign cash from employees at a single company.
In his speech bashing lobbyists, Bush did not mention his relationship with the Southern Strategy Group, nor did he detail his own past work as a registered lobbyist for his Miami real estate firm. A representative of Bush's campaign told the Wall Street Journal that though Bush was indeed a registered lobbyist, he "was not working as a lobbyist" and instead was a partner on the underlying real estate project.
The Bush campaign's effort to downplay Bush's classification as a lobbyist came just after the former governor's speech in which he declared that "the definition of the term 'lobbyist' should be expanded to address the cadre of 'government relations' and 'government affairs' specialists now populating the Capitol."
© Copyright IBTimes 2023. All rights reserved.