Election 2016: John Bolton To Push GOP Foreign Policy Discussion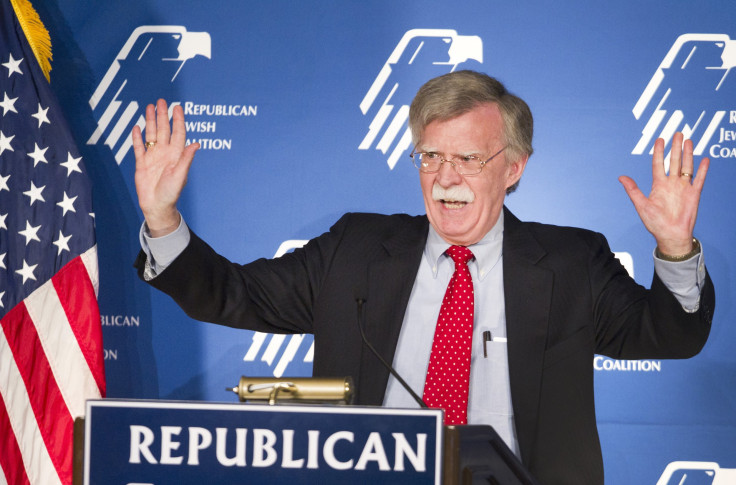 WASHINGTON -- John Bolton wants the Republicans to talk about foreign policy this year. And he's building a trifecta political operation -- a PAC, a super PAC and a foundation -- to push foreign policy into the forefront of the coming presidential primary.
Bolton -- who served as the ambassador to the United Nations for a little more than a year under President George W. Bush -- said he isn't picking favorites at this point in the GOP field, though he's publicly ruled out Sen. Rand Paul as an option. But with so many foreign policy neophytes, Bolton wants to push for them to begin thinking through where they stand on international issues.
"What I'm going to try to do is push all the candidates toward sound national security policies and also push them to articulate and express themselves with foreign policy, so they feel comfortable with the issues so they're expanding their thinking so we can hear them go through the process of showing that they're qualified to sit behind the big desk and make life and death decisions," Bolton said. "They're going to need to do that to get ready to debate Hillary [Clinton] if she's the nominee."
Bolton, who sat down with International Business Times to discuss his PAC and the current state of the campaign, had considered a run himself. And he hasn't forgotten, pointing out that of all the current and potential GOP candidates, none have both knowledge and experience dealing with foreign policy -- a point he makes with almost a twinge of regret that he's staying out of this year's race.
Bolton's top concerns is the Iran deal. And he said there is no way -- at this point -- that ISIS can be defeated without the involvement of American troops on the ground. "They can still be beaten, there is no doubt it," Bolton said. "It needs American leadership, it requires American boots. That's not to say the Turks, the Kurds, the Saudis, the Jordanians and others shouldn't have far and away the largest number of troops on the ground. They can't do it alone. It's not just a question of adding up all your armies. They need us. They need leadership."
The field has only minimal foreign policy experience. Sen. Lindsey Graham may be the only one of the likely 16 candidates who has spent extensive time dealing with foreign policy. But Bolton said it comes down to the ability to explain leadership. "Fundamentally, it's a question of knowing what your objectives are and being able to make decisions on policies that bring you closer to your objectives," he said. "In that sense, ironically, the governors are the people who have more executive branch experience, they just have less subject matter familiarity with foreign and defense policy."
It's going to be a tough fight for Bolton. Voters rarely cite foreign policy as their top issue. Consistently, voters have said the economy and jobs are their biggest concerns. And from there, they tend to get more local, picking education is a key concern. And if poll after poll shows the public concerned about jobs and the economy, then the candidates are likely to focus their message that way.
But as the 2016 election approaches, more Republicans are pushing for foreign policy. Bolton points to the 2014 midterm elections. A series of foreign affair and national security issues arose as top concerns for voters. The Islamic State group fighters in Syria and Iraq became a daily discussion on the campaign trail, and the spread of Ebola in northern Africa prompted fears about the ability to respond to biological warfare.
In 2014, Bolton's PAC and super PAC raised more than $7.5 million and contributed to 87 House and Senate races. The PACs also made independent expenditures in three Senate races -- backing Arkansas' Tom Cotton, North Carolina's Thom Tillis and New Hampshire's Scott Brown.
One of the biggest hurdles for the ultimate GOP nominee will be talking foreign policy on the debate stage with Clinton. She spent four years as the secretary of state and engaged in diplomatic efforts while first lady. Foreign policy is considered one of her strong points and the Republican nominee, who is likely to have minimal foreign policy credentials, will have to find a way to talk with equal authority.
But Bolton said he's prepared to go on offense against Clinton. "Given the consensus among the political commentators that Hillary Clinton is the leader of the pack, she's somebody that obviously has a record of secretary of state, I personally think she's an ideological twin of Obama's on domestic as well as international issues," he said. "We'll be highlighting what I think are the failures of her at the State Department, including failures that have manifested themselves even after she left federal service, the Iran nuclear deal, which could be announced in a few weeks, is a good example."
Bolton said he hopes to see the GOP candidates already begin to expand their foreign policy understanding. He pointed to former President Ronald Reagan -- who Jeb Bush likes to evoke when asked if governors can be qualified to handle foreign policy -- who kept diaries examining his foreign policy positions long before he made it to the White House.
"I want them to think about the issues, I want them to argue and debate with people, privately or publicly, I want to exercise their national security brain muscles," Bolton said. "This isn't a cram course at a university, it's a question of getting people to show that they've got the capability and the judgment fundamentally to make the decisions that only a president can make."
FOR FREE to continue reading
✔️ Unlock the full content of International Business Times UK for free
offer available for a limited time only
✔️ Easily manage your Newsletters subscriptions and save your favourite articles
✔️ No payment method required
Already have an account?
Log in
© Copyright IBTimes 2023. All rights reserved.