Election 2016: Martin O'Malley Announces Presidential Campaign And Is Greeted By Protesters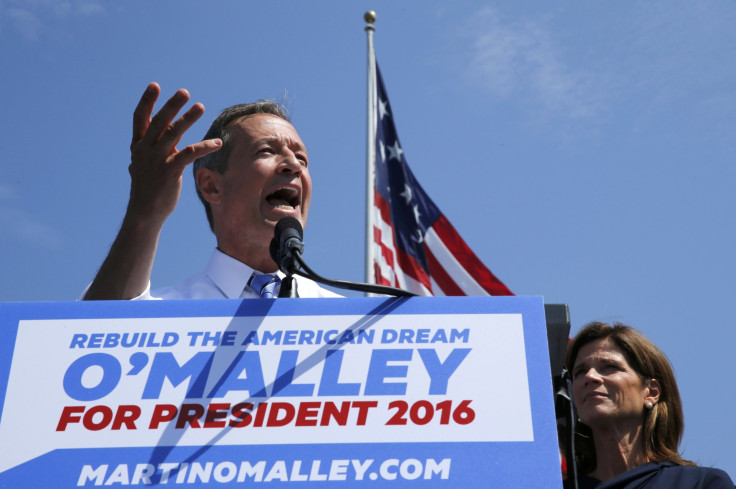 BALTIMORE -- Martin O'Malley officially entered the race for the Democratic U.S. presidential nomination Saturday, touting his two terms as governor of Maryland and time as mayor of Baltimore. Standing on a hill overlooking this city, O'Malley sought to position himself as an experienced executive who understands how to attack problems.
"Whether the American dream becomes a lie or becomes an ongoing truth that our children can enjoy, can build upon, can live, is really up to you and me," he said. "It is up to all of us. It's not about Wall Street, not about the big five banks, it's not even about big money trying to buy our elections. It's about U.S."
O'Malley joins former U.S. Secretary of State Hillary Clinton and Sen. Bernie Sanders of Vermont in the contest for the Democratic nomination. The list of Democrats vying for the nomination pales in comparison with that of Republicans, who could field as many as 20 candidates. Clinton, who is a strong front-runner for the nomination and holds a commanding lead in both fundraising and polls, has managed to keep many serious contenders from entering the race.
O'Malley positioned himself as a liberal, more energized candidate -- seeking to distinguish himself from Clinton. The former Maryland governor will seek to find space in the electorate that his chief rival hasn't locked up. His campaign slogan "New Leadership" is a subtle jab at Clinton, whose husband won election as president in 1992 and 1996. He added more criticism directed toward Clinton and likely Republican presidential candidate Jeb Bush, calling them out by name. "The presidency is not a crown to be passed back and forth by you," he said.
Earlier, O'Malley touted his accomplishments as governor, pointing to the legalization of gay marriage, an increased minimum wage and changes in education changes. "It took new leadership," he said. "New perspectives. And new approaches."
Without Clinton in the race, O'Malley would have been viewed as a strong candidate with years of experience he could use to campaign on. Instead, he enters the race as an underdog who will struggle to make up the lost ground between him and Clinton. But as the former secretary of state continues to struggle with answers to growing questions about her family's foundation and her time at the State Department, O'Malley could be in the best position should her chances start to crumble.
However, O'Malley will also have to answer questions about his own time in office. His tenure as governor came under sharp criticism as he was leaving office, primarily on the grounds he raised taxes too much. Despite Maryland being a reliably Democratic state, a Republican was able to succeed him as governor mainly by criticizing O'Malley's handling of state finances.
His announcement was also not made without criticism. At the beginning of his speech, a woman in the back of the crowd began shouting, "Black lives matter," while marching around the crowd holding a cardboard sign. She was joined by a handful of other demonstrators. One yelled, "You are lying," over and over during the speech. Another blew a whistle repeatedly to disrupt it. The protesters shouted about police brutality, attracting the attention of the media.
Critics have pointed to O'Malley's push for stronger law enforcement while he was mayor of Baltimore as contributing to the problems that are now plaguing the city.
© Copyright IBTimes 2023. All rights reserved.