Election 2016 Update: Bernie Sanders Says He's Got The Momentum To Win Democratic Nomination, Predicts Superdelegates Will Rethink Their Loyalty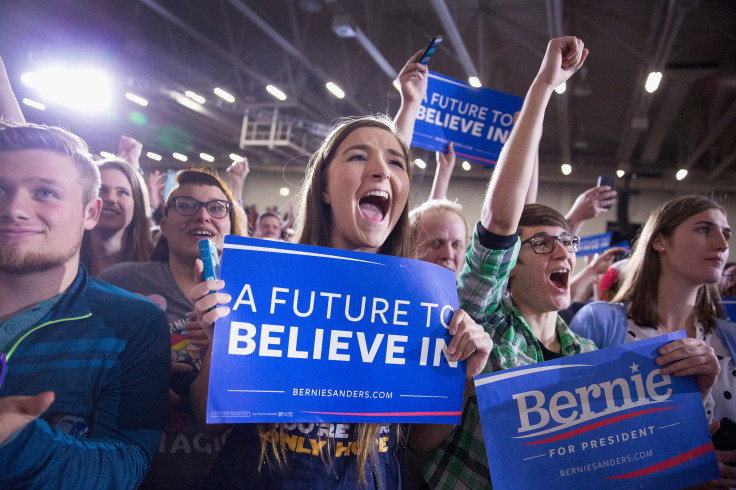 Democratic presidential hopeful Bernie Sanders, fresh from a trio of victories in Saturday's caucuses, predicted Sunday that the more than 460 superdelegates now backing rival Hillary Clinton will rethink their allegiance if he continues to pile up wins.
Sanders, in an appearance Sunday on CNN's "State of the Union," predicted more victories on the horizon now that the Southern contests are over.
The Vermont independent senator and self-proclaimed democratic socialist won landslide victories Saturday in Washington, Alaska and Hawaii, bringing his pledged delegate total to 975, compared with 1,243 for Clinton. The bigger differential is among the more than 700 superdelegates. Currently 469 are supporting Clinton and just 29 Sanders, but they can change their minds at any time. A candidate needs 2,383 delegates to secure the Democratic presidential nomination. Sanders is hoping he can capture a sufficient percentage of the 2,049 delegates still available in coming contests.
Sanders noted he has won five of the last six primaries and caucuses, and with an eye on June 7's delegate-rich California primary, he forecast that Clinton's superdelegates may rethink their positions if he continues to make strong showings against her. The Democratic National Convention is scheduled to begin July 25.
"A lot of the superdelegates are beginning to look at which Democratic candidate is in the best position to beat Donald Trump," Sanders said on NBC's "Meet the Press." He said he has the momentum to capture the number of pledged delegates needed for the nomination and refused to say whether he thought the superdelegates should decide the nomination if he falls slightly short. Polls last week indicated Sanders has an even bigger edge on the two leading Republican candidates, Trump and Ted Cruz, than Clinton.
"We have a path to victory. We are going to win this nomination process," he said.
"What we showed yesterday is the momentum is with us," Sanders said on ABC's "This week." He said the races now are heading into the "most progressive part of America. We still remain the underdog but we have come a long, long way. We do have a path to victory."
Sanders also called for reform the of U.S. campaign financing system, saying candidates "have to do more than reach out to billionaires." He called a planned fundraiser being organized by actor George Clooney for Clinton "obscene" because attendance requires a couple to pony up $353,000.
Sanders said he was not criticizing Clooney but targeting "a corrupt campaign finance system" and "big-money interests." He called for Citizens United, the U.S. Supreme Court decision that gave rise to super PACs, to be overturned.
Sanders noted Clinton has raised $15 million from Wall Street and the fossil fuel and drug industries while most of his $6 million in contributions have been in small amounts from individuals averaging $27.
Sanders refused to say unequivocally whether he would support Clinton should she win the nomination, saying it's too early in the process to make that determination. He also refused to say whether he would consider her as a running mate.
© Copyright IBTimes 2023. All rights reserved.