Election 2020 Polls: Biden Leads Trump Nationwide Amid US Coronavirus Outbreak
KEY POINTS
Trump's support among Independents has plummeted to 27% from 45%
Women voters, always on Biden's side, now support him 53% to 30%
A full 87% of Democratic voters now back Biden
Democratic Party presidential nominee Joe Biden leads President Donald Trump for the presidency in national polls.
The latest poll from USA TODAY/Suffolk University showed Biden leading Trump nationwide 44% to 38%. This result was a definite shift away from Trump's 44% to 41% lead in a previous poll taken by USA TODAY/Suffolk University in December as he was being impeached by the House.
An analysis of this turnaround in fortunes -- good for Biden, bad for Trump -- indicated Trump's decline in popularity has something to do with his response to the COVID-19 pandemic still sweeping the country. It underlines the damage being done to Trump's political standing by his many missteps as he struggles to cope with this unprecedented crisis.
Trump's mismanagement has also led to a drop in support among Independents. Since the previous poll in December, Trump's support among Independents has plummeted to 27% from 45%, a huge 18 percentage point loss. On the other hand, Biden gained eight percentage points among Independents.
Worse than the loss of votes among Independents, Trump's support among men has greatly eroded. The poll showed men still backing Trump 46% to 35%, but that's a sharp decrease from the previous poll that had these figures at 56% to 30%.
Women voters, always on Biden's side of the ledger, now support him 53% to 30%. A full 87% of Democratic voters now back Biden. On the other hand, nine out of 10 Republicans said they'll still vote for Trump.
Respondents also rated Biden as having more of the qualities a president must have compared to Trump. Biden posted a higher net score (the positive rating minus the negative rating) than Trump did on all six characteristics.
These traits were being a strong leader, caring about people like me, knowing how to get things done, standing up for U.S. interests, being honest and trustworthy and the ability to work with foreign leaders.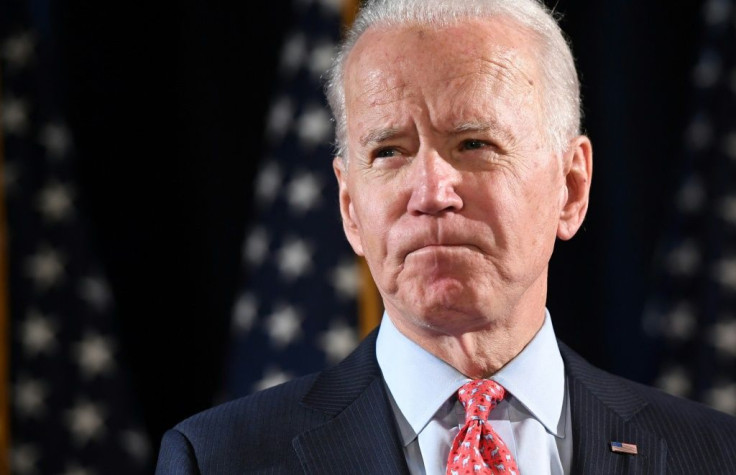 Biden won four of the six qualities. He only fell short in being a strong leader (45% described Trump this way compared to Biden's 43%) and in knowing how to get things done (51% Trump as against 48% Biden).
Biden overwhelmed Trump when it came to caring about people like me. Fifty-seven percent said this phrase described Biden better than Trump. Only 39% said it described Trump, while 58% said Biden will stand up for the U.S. interests more than Trump, who got 53%. Biden was at his highest in being "honest and trustworthy." This quality was also Trump's worst.
The poll showed Biden thrashing Trump, 64% to 31%, or a better than two-to-one margin. Sixty-four percent of respondents said Biden can work with foreign leaders better than Trump. Only 45% said it described Trump.
"The poll is clear about which candidate qualities align best with voters," said David Paleologos, director of the Suffolk University Political Research Center. "A central campaign theme for Trump will be about getting things done, while Biden will shape his campaign around caring about everyday people at home while working best with foreign leaders abroad."
© Copyright IBTimes 2023. All rights reserved.
FOLLOW MORE IBT NEWS ON THE BELOW CHANNELS