Election 2020: Twitter Slaps Fact-Check Warning On Trump's Mail-In Voting Tweets
KEY POINTS
The social media platform Twitter has long been Trump's personal newspaper broadcasting his points of view to the world
Twitter on Tuesday decided to limit the damage being inflicted by Trump's baseless tweets
It simply added warning labels to two of his tweets promoting false claims about mail-in voting
President Donald Trump sent out his first tweet on May 2009 and he's never been blocked by Twitter despite incessant calls to do so because of his allegedly racist language, his personal insults, threats, spreading fake news and promoting dangerous conspiracy theories.
On Tuesday, however, Twitter took the unprecedented step of fact-checking Trump's posts. To Trump's chagrin, Twitter attached warning labels to two of his tweets promoting false claims about mail-in voting. "Get the facts about mail-in ballots," read tags below two of Trump's tweets.
Trump's tagged tweets "contain potentially misleading information about voting processes and have been labeled to provide additional context around mail-in ballots," a company spokesperson told CNBC. Twitter tagged Trump after it changed the rules covering situations like this. Fact-checkers say there is no evidence mail-in ballots are linked to voter fraud.
Trump's critics have long demanded Twitter take action against Trump's misuse of its service. Of the more than 18,000 false or misleading claims Trump has made as president, more than 3,300 of them were made in tweets, said The Washington Post.
Twitter this time was goaded into taking action by multiple claims about mail-in voting made by Trump in his tweets. It called Trump's claims "unsubstantiated" in links attached to the labels. The links cited facts reported by CNN, The Washington Post and other reliable news outlets.
The links said, "Trump falsely claimed that California will send mail-in ballots to 'anyone living in the state, no matter who they are or how they got there.' In fact, only registered voters will receive ballots. Though Trump targeted California, mail-in ballots are already used in some states, including Oregon, Utah and Nebraska."
Twitter was forced to act on Tuesday after Trump continued making baseless claims MSNBC anchor Joe Scarborough might have been involved in the death in 2001 of his former intern, Lori Kaye Bolterstein Klausutis, when he served in Congress. Scarborough served in the House of Representatives from 1995 to 2001 as a Republican for the 1st district of Florida.
On July 20, 2001, Klausutis was found dead from a head injury in her office in Fort Walton Beach, Florida. The autopsy determined she had collapsed due to an undiagnosed heart condition and had struck her head.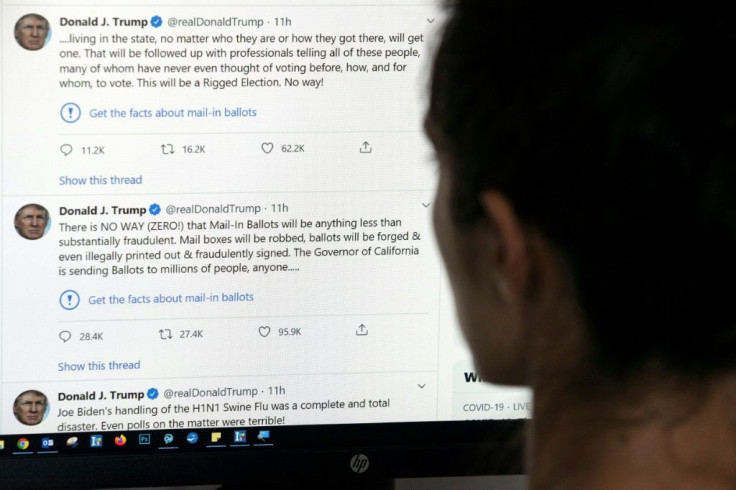 Trump, however, decided to spread a debunked conspiracy theory Scarborough might be involved in her death and demanded an investigation. Klausutis' husband, Timothy, wrote to Twitter CEO Jack Dorsey, asking him to remove Trump's tweets about his wife.
"I'm asking you to intervene in this instance because the President of the United States has taken something that does not belong to him -- the memory of my dead wife -- and perverted it for perceived political gain," he wrote in the letter published by The New York Times Tuesday.
Twitter's brave move is the first time it's fact-checked Trump and Trump didn't like it. On Tuesday evening, Trump accused Twitter of interfering in the 2020 election by "saying my statement on Mail-In Ballots, which will lead to massive corruption and fraud, is incorrect."
"Twitter is completely stifling FREE SPEECH, and I, as President, will not allow it to happen!," he later tweeted.
© Copyright IBTimes 2023. All rights reserved.