Electoral College Live Updates: Can Hamilton Electors Stop Donald Trump?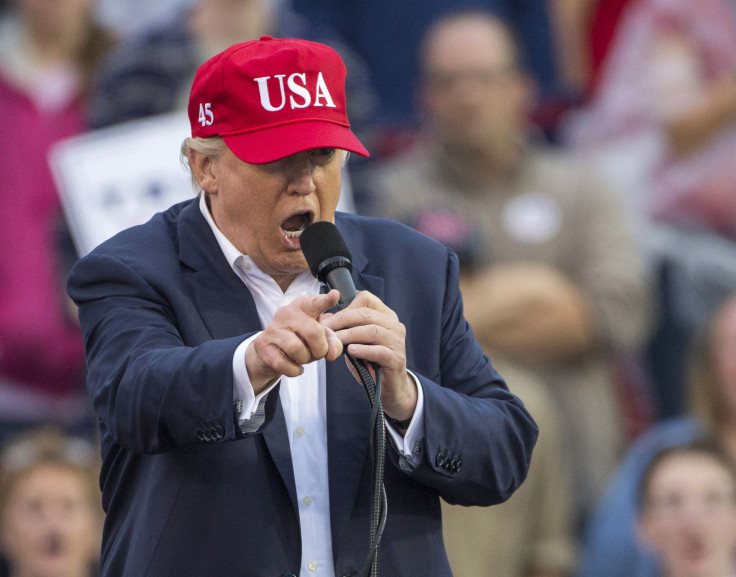 UPDATE: 5:34 p.m. EST — Donald Trump has won the Electoral College vote, securing his Election Day victory last month. The president-elect's win was confirmed when the electors from Texas cast 36 of its 38 votes for Trump, Politico reported.
UPDATE: 3:45 p.m. EST — A handful of electors have cast ballots for a candidate other than the nominee selected by voters in their state as the Electoral College voted for the next president Monday. But despite efforts to rally electors against President-elect Donald Trump, he was well on his way to earning the 270 electoral votes needed to confirm his presidency.
In Washington state, which was won by Democratic nominee Hillary Clinton, four electors broke rank, three voting for former Secretary of State Colin Powell, and another for Faith Spotted Eagle, a Native American activist and environmentalist, according to multiple reports.
That followed electors attempting to break rank in the Clinton-won states of Colorado and Minnesota. Those electors were replaced after their ballots were deemed invalid. Some Democratic electors had hoped to get GOP electors to rally around a Republican who was more traditional than Trump, but those efforts seem to have fallen flat.
UPDATE: 2:45 p.m. EST — Efforts by electors to switch their votes Monday have largely been quelled as the Electoral College went about casting ballots for the next president. So-called faithless electors in Colorado in Minnesota were replaced after their ballots were considered invalid, according to media reports. Both Colorado and Minnesota were won by Democratic nominee Hillary Clinton, who lost the election to President-elect Donald Trump.
Some Democratic electors had proposed a plan to vote for a traditional GOP nominee — someone like former Republican nominee Mitt Romney — in an effort to get GOP electors to switch their vote away from Trump. Despite such efforts, Trump seemed poised to be handed the presidency by the Electoral College, a process that is typically a formality as the electors vote in accordance with voters in each state.
UPDATE: 1:24 p.m. EST — Two of the key swing states that helped hand the presidency to Donald Trump — Ohio and Pennsylvania — have seen their electors cast ballots for the president-elect Monday. Reports indicated that no electors defected in either state, as the Electoral College seemed poised to confirm Trump's presidency Monday despite a push from some to deny him the White House.
All 20 electors in Pennsylvania voted for Trump in accordance with the will of the voters in spite of significant protests outside the state capital Monday.
UPDATE: 12:55 p.m. EST — Every elector in Georgia quickly voted for Donald Trump Monday as the Electoral College seemed poised to confirm the New York real estate mogul as the president-elect. The Georgia vote might have been the result of a forced resignation in August, reported the Atlanta Journal Constitution.
Baoky Vu, a Georgia GOP elector, said this summer he might not vote for Trump if he won. Vu was quickly forced to step down. Georgia GOP chair John Padgett took over Vu's role Monday and voted for Trump.
UPDATE: 12:35 p.m. EST — Barring a move from electors unforeseen by election observers, the Electoral College was expected to confirm Donald Trump as the president elect Monday. Amid the voting, Democrats have begun to "point fingers" regarding the upcoming Trump presidency, Politico reported.
A Democratic elector reportedly told the outlet that a number of Democratic electors were willing to give their votes to a "consensus Republican," such as former GOP presidential nominee Mitt Romney, in an effort to get GOP electors onboard to deny Trump the presidency. The elector apparently said all they needed was approval from the camp of Democratic nominee Hillary Clinton, which never came.
UPDATE: 11:48 a.m. EST — Early returns in Electoral College voting were overwhelmingly in favor of Preside-elect Donald Trump, according to the Associated Press. Most recently, South Carolina's nine electors cast their votes for Trump and Vice President-elect Mike Pence despite a raging protest going on at the state capitol.
Colorado electors initiated legal action over what type of oath they were required to take, according to a tweet from a local journalist.
Other states which cast their Electoral College votes for Trump and Pence include Tennessee, West Virginia, Arkansas and Oklahoma.
UPDATE: 10:45 a.m. EST — The Electoral College began voting for the next president at state capitals across the country Monday. Indiana, Mississippi, New Hampshire, Tennessee and West Virginia were scheduled to vote first.
Thus far, it seemed everything is running exactly as expected, with all the electors in Indiana, Tennessee and West Virginia voting to elect President-elect Donald Trump, in accordance with voters. Mississippi was expected to do the same.
UPDATE: 10:26 a.m. EST — Protests have begun at state capitals across the country Monday ahead of the Electoral College vote on the presidency, according to media reports.
In Pennsylvania, one of the key swing-states that helped swing the election for President-elect Donald Trump, protesters chanted "the whole world is watching" and held signs urging electors to "Dump Trump," according to videos and photographs posted by John Micek of PennLive.
There were reports of protests, ranging in size, in a number of states, such as South Carolina and Florida. Progressive groups worked to organize a protest in every state, although it's unclear if that will actually happen.
Original story:
Monday is the big day for electors attempting to stop Donald Trump from ascending to the presidency. But while it's technically possible he could be denied the job, it's very likely that the Electoral College will confirm Trump as president-elect.
When Americans vote in the presidential election, they're not technically voting for the president, a responsibility that truly falls to 538 electors across the country. These electors meet in their state capitals Monday and cast ballots, usually in lockstep with voters in the state. In fact, electors have voted "as pledged" 99 percent of the time. The official results are scheduled to tallied Jan. 6.
The Constitution leaves some wiggle room for "faithless electors," who refuse to cast a ballot for the chosen candidate (some states do by law require electors to follow the will of the state, however). This is the last-gasp chance for electors who want to stop Trump and has been the aim of the so-called Hamilton electors.
As of Monday morning, there are just nine Democrats and one Republican that are publicly onboard with the plan to deny Trump electoral votes, Politico reported. They'd need 36 other Republicans to join the movement to deny Trump the presidency, which would then force the decision House of Representatives.
Chris Suprun, a Republican elector who has said he'll vote for Ohio Gov. John Kasich instead of Trump, wrote Monday that he was doing so because of intelligence reports that concluded the Russian government worked to get the GOP nominee elected.
"I'm gravely concerned that Russian President Vladimir Putin helped Trump win the Republican primary, in addition to the general election," he wrote in an opinion piece published at The Hill. "In light of the mounting evidence of foreign influence undermining our election, delegates to the Electoral College should have been briefed by the CIA."
A YouGov poll conducted late last week found that amid the reports of Russian involvement in the election, 52 percent of respondents said the Electoral College vote should be delayed, while 46 percent said electors should change or withold their vote. Of course, these results are not entirely surprising, considering Democratic presidential nominee Hillary Clinton won some 2.9 million more total votes than Trump, despite the fact that he won 306 electoral votes to her 232.
© Copyright IBTimes 2023. All rights reserved.