'Elementary' Season 5, Episode 16 Spoilers: What Does The DIA Want From Sherlock?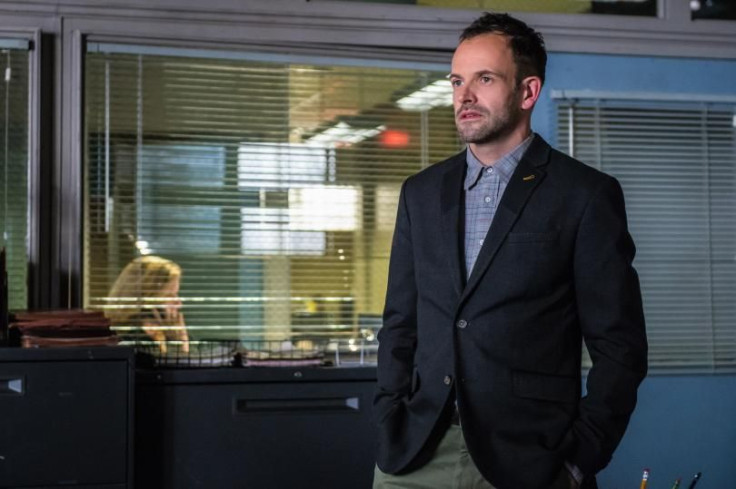 Did Sherlock (Jonny Lee Miller) do something wrong?
At the end of last night's Season 5, episode 15 of "Elementary," Sherlock was arrested by the Defense Intelligence Agency (DIA). Although Sherlock had no idea why he was being arrested, the British sleuth didn't resist.
It seems, however, that the rogue agency just took Sherlock into their custody because they want something from him. While it remains to be seen what that is, the preview clip for next week's Season 5, episode 16 shows DIA agent Anson Gephardt (Scott Shepherd) urging Sherlock to think about his future. Are they trying to recruit Sherlock?
Meanwhile, while Sherlock is away, Joan (Lucy Liu) and Kitty (Ophelia Lovibond) start figuring out whether the string of murders stemming from an old case Sherlock and Kitty solved in London is connected to an international government conspiracy involving the DIA.
The synopsis for the next week's episode also reveals that Sherlock and Kitty's relationship is going to be strained after she shares life-changing news to her former mentor. Although the episode summary doesn't specify what that life-changing news is, it probably has something to do with her decision to quit her work as a detective very soon.
In last night's episode, Sherlock found out that Kitty is already a mother. He, however, still doesn't know about her intention to quit his job as a detective.
"After [this case] is over … I'm quitting," Kitty told Watson. "I'm gonna stay on with the [anti-human trafficking] group I told you about but strictly as a counselor. I just don't know how Sherlock's gonna take it."
"He dedicated a year of his life to me," continued Kitty. "He taught me, he gave me structure, he gave me purpose. This thing we do, this isn't just a job to him. It's something much more, and I'm just gonna turn my back on it? I'm scared he's going to be disappointed."
How do you think will Sherlock react when he learns about Kitty's decision? Sound off in the comments below!
"Elementary" Season 5, episode 16, titled "Fidelity," airs on Sunday, March 12 at 10 p.m. EST on CBS.
© Copyright IBTimes 2023. All rights reserved.
FOLLOW MORE IBT NEWS ON THE BELOW CHANNELS