Elena Kagan Reacts To Donald Trump: Justice's Face, 'Side Eye' And Handshake Go Viral After President's Speech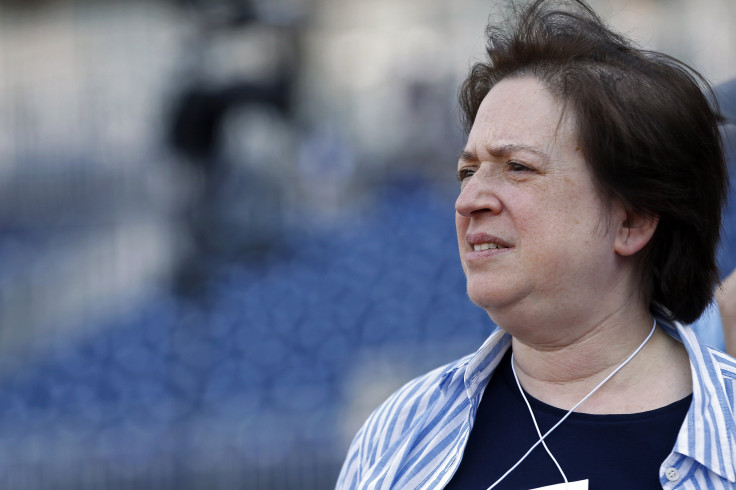 Supreme Court Justice Elena Kagan's colleague Ruth Bader Ginsburg may be the notorious one, but it was the former who drew attention Tuesday night at President Donald Trump's joint address to Congress. Kagan, sitting near Chief Justice John Roberts and Associate Justice Sonia Sotomayor, started a flood of GIFs when she appeared to roll her eyes during Trump's speech.
The camera showed Kagan a few times throughout Trump's speech. She and her peers dominated the screen, for example, when the president was talking about his efforts to replace late Justice Antonin Scalia.
"I have kept my promise to appoint a Justice to the United States Supreme Court -- from my list of 20 judges -- who will defend our Constitution," Trump said, according to prepared remarks circulated by the White House press office. "I am honored to have Maureen Scalia with us in the gallery tonight. Her late, great husband, Antonin Scalia, will forever be a symbol of American justice. To fill his seat, we have chosen Judge Neil Gorsuch, a man of incredible skill and deep devotion to the law. He was confirmed unanimously to the Court of Appeals, and I am asking the Senate to swiftly approve his nomination.'
Though Supreme Court justices pride themselves on being above politics, sometimes they can't help but get involved. Ginsburg, for example, apologized last year after calling Trump a faker -- and skipped the Republican's Tuesday night speech. (Justices Clarence Thomas and Samuel Alito were absent as well, as they have been in previous years, according to the Washington Post.)
Kagan joined the Supreme Court in 2010 after being nominated by then-President Barack Obama. The first female solicitor general, Kagan was called "a Democrat's Democrat" before her confirmation. Her donations before becoming a justice tell a similar story: OpenSecrets found that Kagan previously gave more than $12,000 to federal politicians and groups, including Obama, Hillary Clinton, John Kerry and Al Gore.
© Copyright IBTimes 2023. All rights reserved.