Ellen Grossman, 67, Speaks About Meeting Jay-Z On NYC Subway, Embarrassed She Didn't Know Rapper [VIDEO]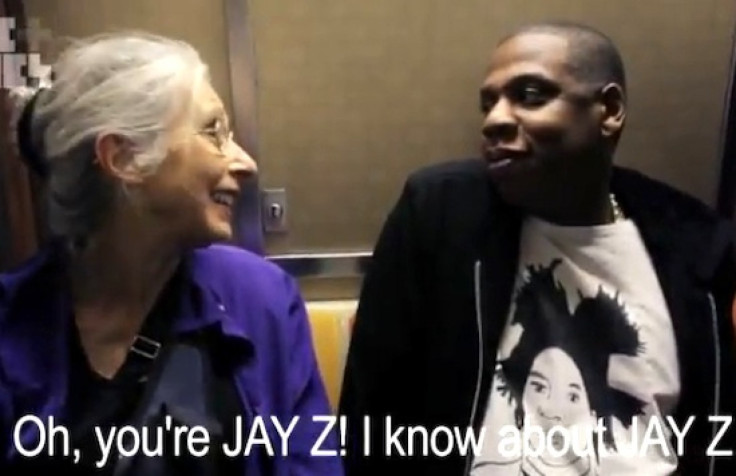 The world became amused at Ellen Grossman, a 67-year-old New York artist who found herself sitting next to rapper Jay-Z, and hadn't a clue who he was.
The incident was aired in a new 24-minute documentary video, "Where I'm From," released by Jay-Z's Life + Times YouTube page.
Grossman is seen in the video chatting with Jay-Z and asking if he is famous, since she didn't recognize his face. Eventually, she realizes the extent of his celebrity status just as Hov, real name Shawn Carter, humbly admits that he's "not very famous" and hopes to "get there someday."
"I was aware Jay-Z was famous and existed, but I didn't know how famous," Grossman told The Washington Post.
"In general I have poor face recognition unless I know someone really well. And as I checked him out, I realized, how embarrassing that I didn't know who he was!"
Grossman admitted that she thought there was a 9/11-style attack when she got on the subway, but then thought it was a flash mob due to the frenzied crowd trying to snap photos of the rapper.
"There were all these photographers and a crowd of happy people around him, and security people. So it sort of dawned on me as I was looking around that he was someone famous," she said.
The duo ended up in a conversation while sitting on the train which began with asking Jay-Z if he was famous.
"Yes," Jay-Z responded in the video. "Not very famous, you don't know me. But I'll get there someday."
She told The Washington Post that Jay-Z appeared stressed, perhaps because of the large crowd.
"When I said, 'Are you famous?' he looked kind of relieved... that it was a safe spot. Not to imply that his fans were threatening; just overwhelming."
Jay-Z explained that he makes music and is on his way to Brooklyn's new Barclays center to perform his last of eight shows.
"And you're going by subway," Grossman says in the video. "I'm proud of you."
Eventually, Grossman figured out he is Jay-Z and says, "Oh, you're Jay-Z! I know about Jay-Z!"
"I don't think you can live in this world and not recognize Jay-Z's name," Grossman told The Guardian in retrospect.
Grossman told The Guardian that he wrote down his website "on the back of an envelope" for her to check out, which she admitted she has been researching.
"I've become much more aware of what he's done and who he is," she told The Washington Post.
"When I went and looked at his website I found – of course he highlights his own work – but he just gave tremendous amount of space on it to other artists, collaborations with other people, to just highlighting other people and I appreciated that about him and had that feeling that he was giving me attention in the same way. It was a very positive experience," she told The Guardian.
Grossman said she is enjoying her own fame for now, since many have checked out her artist website since the documentary aired.
"I'm an artist so I obviously want a certain kind of attention but it's more for my work as opposed to presenting myself as a public person," she told The Guardian. "I suspect it's my 15 minutes of fame."
But most impressive, Grossman said, was Jay-Z's humble nature.
"It was just a wonderful conversation. He's very real. He didn't seem disturbed that I didn't understand who he was, he's not full of himself."
© Copyright IBTimes 2023. All rights reserved.
FOLLOW MORE IBT NEWS ON THE BELOW CHANNELS