Ellicott City Flooding Pictures: How To Help Maryland Town After 2 Killed From Heavy Rains [PHOTOS]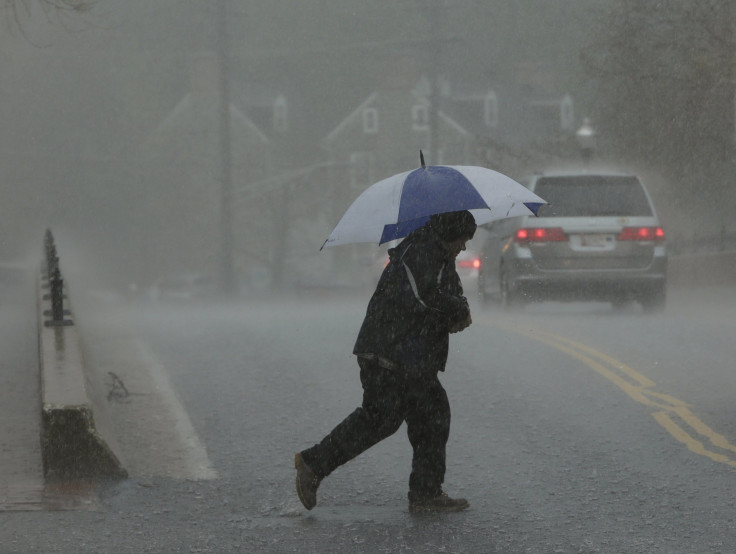 The equivalent of a month's worth of rain fell in Ellicott City, Maryland, Saturday evening over the course of two hours, killing two people and leaving behind what city officials estimated Monday to be of millions of dollars' worth of damage.
"It looks like the set of a disaster movie," Howard County Executive Allan Kittleman told the Associated Press. "Cars everywhere, cars on top of cars, parts of the road are gone, many parts of the sidewalk are gone, storefronts are completely gone."
Maryland Gov. Larry Hogan declared a state of emergency Sunday after touring the city. "It's worse than any of us expected it to be," he said, the Baltimore Sun reported.
Between 7:00 p.m. and 9:00 p.m. EDT Saturday, 6.5 inches worth of rain fell, destroying buildings, sidewalks and sweeping away cars and people in the city of 65,000 that is approximately 14 miles west of Baltimore. Floodwaters rushed down the city's Main Street and in a dramatic scene people formed a human chain to rescue a woman who was trapped in a car. Store owners and community members described massive devastation.
"I'm Japanese, and I have seen the aftermath of the tsunami in Japan almost five years ago," Hatsumi Watanabe-Smith, the owner of Matcha Time Cafe, told the Sun. "It reminds me of the tsunami. This is a disaster."
The two victims of the flood have been identified as Jessica Watsula, 35, of Lebanon, Pennsylvania, and Joseph Blevins, 38, of Windsor Mill, Maryland. Both Watsula and Blevins were trapped inside of vehicles when the floods happened.
Ellicott City now faces a months-long recovery after five buildings were completely destroyed, 30 sustained significant damage and over 170 vehicles were stranded on Main Street, which slopes down toward the Patapsco River. The river rose by 14 feet in only 90 minutes during the rains. The old mill town has many buildings that date back to the 18th and 19th century.
There are several options available to help Ellicott City. A website to help store owners and community members has already been set up and is available here. Donations can also be made to the Howard County food bank with more information available here.
© Copyright IBTimes 2022. All rights reserved.
FOLLOW MORE IBT NEWS ON THE BELOW CHANNELS