Elon Musk Taking A Break From Twitter Following String Of Influential Investment Tips
Outspoken Twitter user Elon Musk has announced that he is taking a break from the social media platform, but not before he influenced a series of investors with a few tweets.
The Tesla CEO made the proclamation early Tuesday, saying he was "off Twitter for a while," giving no other indication for his departure.
Musk's ability to influence his followers is unmatched as the businessman proved his prowess with a single tweet on Jan. 7 that sent shockwaves through the market.
"Use Signal," Musk had tweeted, sending a medical device company with the same name's share price up 438%, the New York Post reported.
Signal, the social chat app that Musk most likely wanted fans to try, also saw a surge in users that week as 7.5 million people downloaded the app - its highest week or month on record, CNBC said.
Musk has also performed the same maneuver for GameStop, Etsy, Shopify, and Cyberpunk's CD Projekt in cryptic tweets to his 44.8 million followers.
On Jan. 26, he said he loved Etsy. The company's stock then rose over 6% in premarket trading.
On the same day, Musk tweeted "Gamestonk," sending GameStop's shares up 60% in after-hours trading.
Two days later, in response to a Twitter user's comment, Musk said that Shopify was "great," resulting in the company's stock going up as much as 3.5%, Bloomberg reported. He has also touted Cyberpunk's CD Projekt on Twitter as well as a half-a-dozen other company's in 2021 alone, the news outlet said.
Musk's break from Twitter comes after the billionaire gave a lasting impression on Sunday in a Clubhouse interview – a voice-based social media app that he just joined.
In the interview, Musk touched on everything from his thoughts on aliens to memes and the COVID vaccine. But when he was asked if he purposefully tries to sound crazy on Twitter, he said, "I started crazy on Twitter."
Shares of Tesla were trading at $877.45 as of 1:33 p.m. EST on Tuesday, up $37.64 or 4.48%.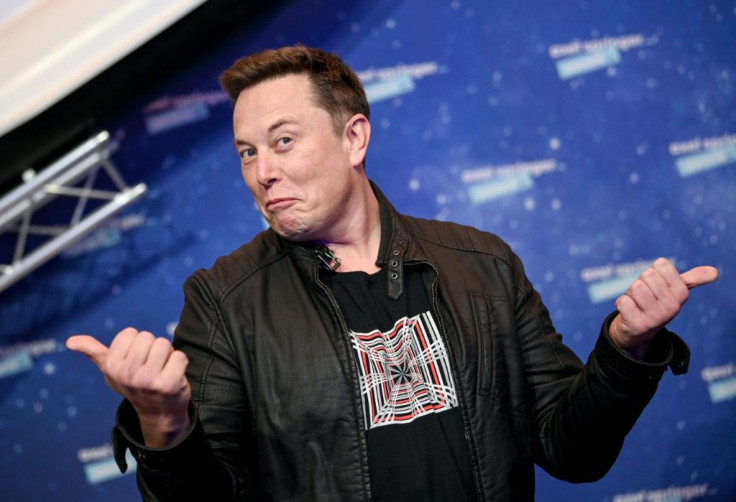 © Copyright IBTimes 2022. All rights reserved.
FOLLOW MORE IBT NEWS ON THE BELOW CHANNELS