Elton John's AIDS Foundation Oscars Party Turns into a Dazzling Runway [PHOTOS]
Elton John's AIDS Foundation Oscars Viewing Party turned into nothing short of a dazzling runway, complete with some of the world's most beautiful women like Heidi Klum, Dita Von Teese, Marisa Miller and Brooklyn Decker.
Sir Elton John and partner David Furnish hosted the Viewing Party at West Hollywood Park. The two introduced their son, Zachary, to attendees. David and I don't want Zachary to be a focus of people's attention. As he grows up he'll become his own man and we'll be incredibly proud of whatever choices he makes, John wrote to The Guardian. He may one day be straight, he may one day be gay. He may turn out to be an athlete. Or a book-lover. Or both. He can be whatever he likes and we'll continue to treasure him, as we do now, like nothing else in the world.
The fete attracted the likes of supermodels, actresses and reality stars. Heidi Klum was the life of the party, kissing friends, laughing and sipping champagne. She wore a canary yellow dress that showed off her toned gams and Christian Louboutin heels. It was his idea to invite some of the highest profile, newly-single female celebs in town, a source told The Daily Mirror. He thinks it's a great way to put a smile back on their faces, and hopefully land them new men. He got in touch last month to personally offer Heidi and Katy his support, and invite them to his bash.
Klum partied with fellow supermodels Karolina Kurkova, Marisa Miller, Brooklyn Decker and Bar Refaeli. Kim Kardashian and sister Kourtney made an appearance. Both wore long flowing gowns in contrasting colors. Kim's black gown had a slight fistail, while Kourtney's white Grecian dress featured a silver-detailed collar.
Some wild fashion moments included Mena Suvari's feathered frock, Katy Perry's blueberry blue hair, Kurkova's sequined jumpsuit and Dianna Agron's floral maxi dress.
Check out the photos from Elton John's AIDS Foundation Oscars Viewing Party.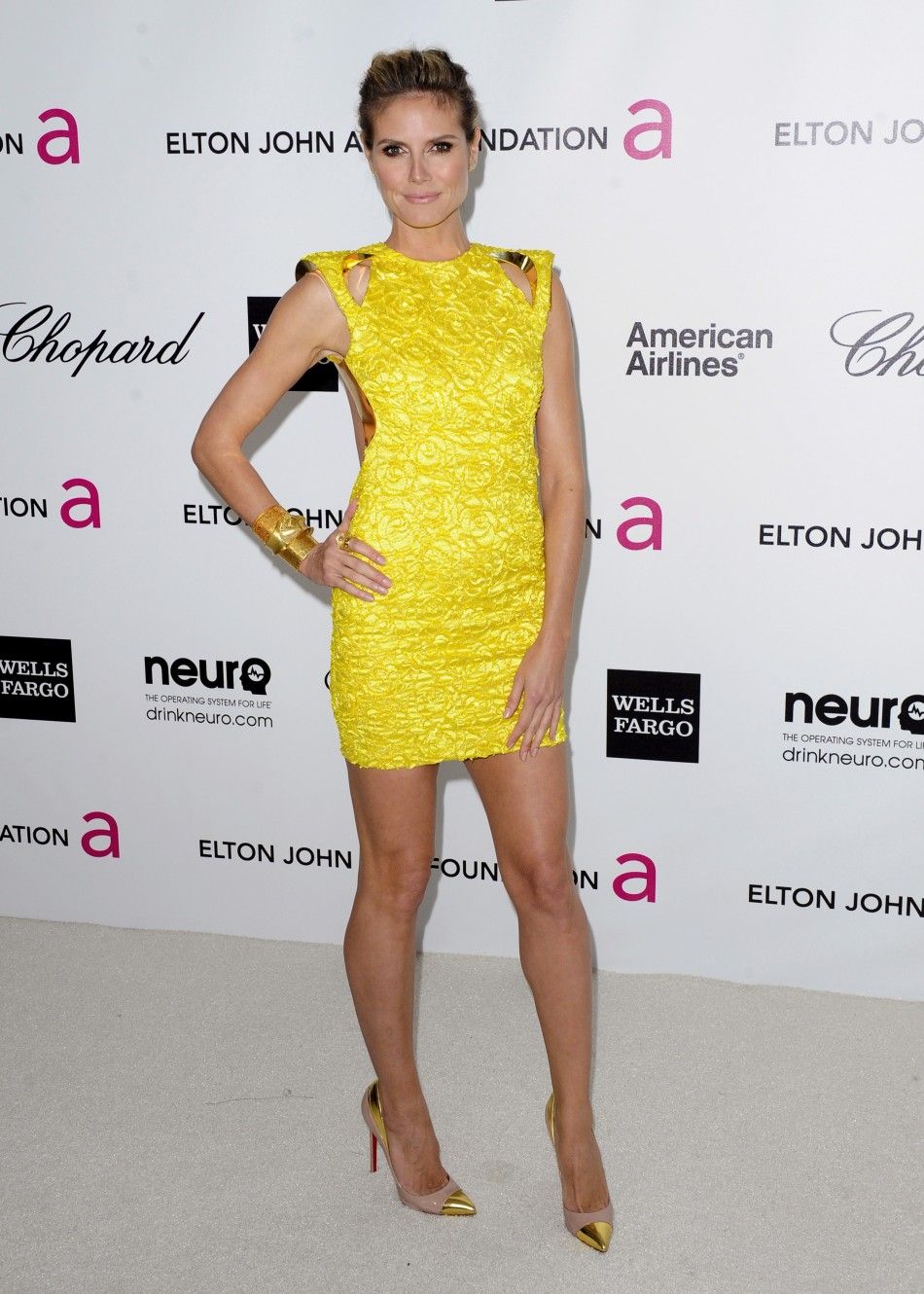 © Copyright IBTimes 2023. All rights reserved.