Eminem And Drake Reunion Creates Backlash For Hot 97's Ebro Darden, Radio Host Responds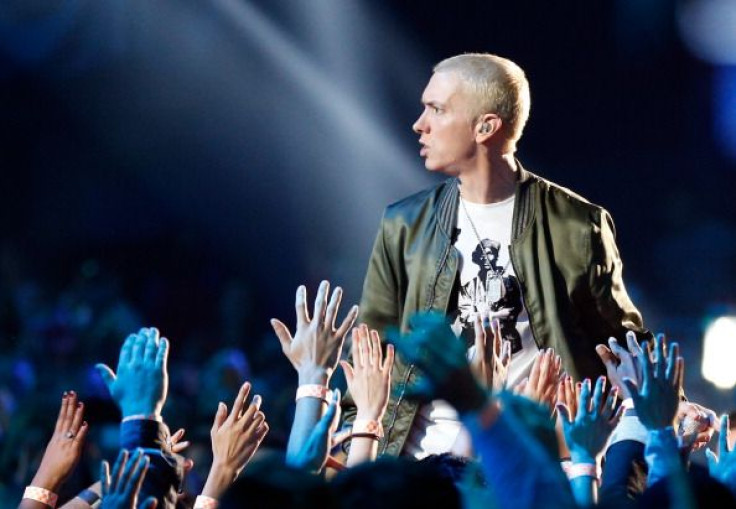 Ebro Darden is getting blasted online after Drake brought out Eminem during the Detroit leg of his "Summer Sixteen" tour on Tuesday. The hate dates back to a rumor the Hot 97 host started earlier this month that both rappers were planning to battle each other.
"I told Drake that I heard the rumor was that Eminem was gonna gear up to come after him," said Darden on his radio show. "And he laughed, and he was like 'That's not gonna happen. He'd never do that and if he did, I got something for him too.'" Later, however, the New York host said he wasn't serious and was merely joking around.
Then on Aug. 4, when the "Views" creator played a show at New York's Madison Square Garden, he slammed the outspoken radio host and said he wasn't being truthful. "They telling lies on Hot 97. That's how it goes," said Drake in short freestyle verse.
He also went after one of the station's DJs, Funkmaster Flex. "I told them 'Fire Funk Flex and then I'll come and do your show' / Plus, me and Kanye, we just left out the studio / My first night in the Garden, I'm feeling like D. Rose,'" rhymed the OVO founder.
Since that performance, the chatter surrounding Darden, Drake and Eminem has died down, but it was rekindled on Tuesday when the "8 Mile" rapper joined Drizzy on stage. "Detroit, make some noise for the greatest rapper to ever get on the motherf------ microphone," said the Canadian wordsmith, which seemed to show that he and Eminem were friendly with each other. Afterward, some took to Twitter to blast Darden.
"Jokes on you @oldmanebro," one person wrote. "Drizzy always puts the nail in the coffin." "Drake bringing out Eminem was great for that city last night," someone else tweeted. "Have to respect that but @oldmanebro, stop spreading lies. We too old for that."
Eventually, Darden responded to the backlash and said that Eminem supporting Drake was wonderful. "Why was the thing such a big deal?" he said. "I think it's phenomenal … It is dope, because you know Eminem doesn't come out for much, but why wouldn't he come out for one of the biggest artist right now in hip-hop."
It will be interesting to see if this drama created by Darden concerning the two rappers will cease, or if it'll continue to be a talking point. Only time will tell.
© Copyright IBTimes 2023. All rights reserved.