Eminem Releases New Single 'Rap God;' Is The Song Homophobic?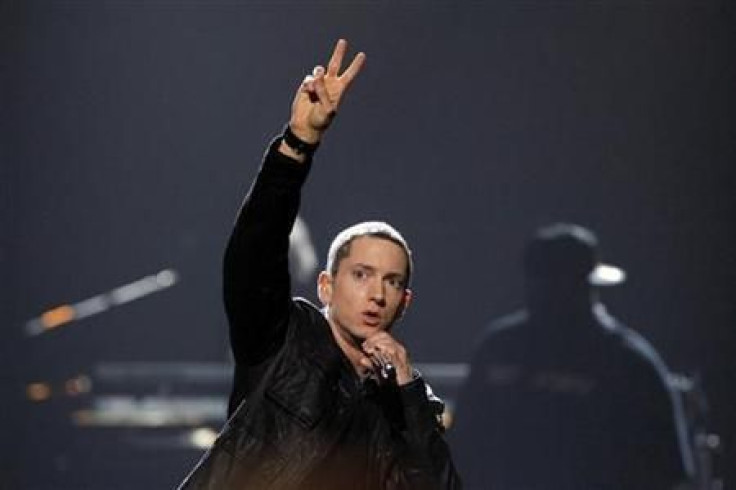 Eminem surprised his fans on Monday by releasing a new single from his upcoming new album "The Marshall Mathers LP 2," where he raps about feeling like a rap deity. The song, titled "Rap God," lasts for about six minutes and is a tribute of sorts to himself and all the rappers who have inspired him, including Rakim, Tupac, N.W.A. and Lakim Shabazz.
"Rap God" has garnered good reviews from various quarters -- Time magazine called the song "divine" -- but, some are not happy with the song, claiming that the lyrics are highly homophobic. Scott Meslow of TheWeek.com wrote in his review of the song that "Rap God" makes multiple references to gays, and several others pointed out that the term "faggot" has been liberally used.
For instance, Meslow pointed out that in the first verse, Eminem raps about his ability to "break a motherf----r's table over the back of a couple f-ggots and crack it in half," and in the second verse, he rants:
"Little gay-looking boy / So gay I can barely say it with a straight face-looking boy / You witnessing massacre like you watching a church gathering taking place-looking boy / 'Oy vey, that boy's gay,' that's all they say looking-boy / You take a thumbs up, pat on the back, the way you go from your label every day-looking boy."
This is not the first time Eminem has been attacked for being homophobic.
In 2001, the lyrics of some of the songs in "Marshall Mathers LP" came under scrutiny, and the rapper responded to claims that he was homophobic by performing with Elton John, who is openly gay, at the Grammy Awards.
"If I thought for one minute that he was [hateful], I wouldn't do it," John said at the time, according to Billboard.
In a 2010 interview with Anderson Cooper on 60 Minutes, Eminem defended his use of the word 'faggot' was not necessarily tied to homosexuality.
"That word was thrown around so much, you know? Faggot was, like, it was thrown around constantly, to each other, like in battling, you know what I mean?" he asked, and insisted that he is not homophobic. "I don't have any problem with nobody, you know what I mean. Like, I'm just whatever."
© Copyright IBTimes 2023. All rights reserved.