Emma Stone Surpasses Jennifer Lawrence As Forbes' Highest-Paid Actress For 2017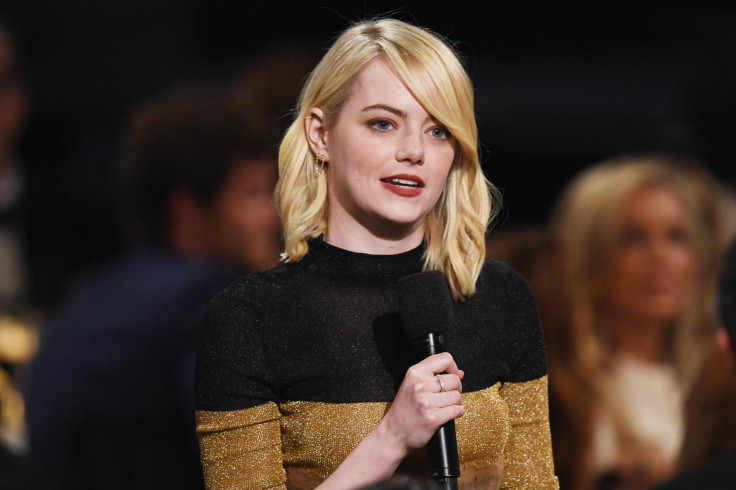 Emma Stone is the top earning actress of 2017.
Stone's role as Mia in "La La Land" gave her a huge paycheck, which helped her top Forbes' 2017 list of highest-paid actresses. Stone, 28, made $26 million pre-tax within Forbes' 12-month scoring.
Right behind Stone in second place is Jennifer Aniston. Although the "Cake" star is not very visible on TV these days, she continues to bank millions after her stint in NBC's "Friends" as she regularly scores roles in movies as well as endorsement deals. This year, Aniston, 48, made $25.5 million. Most of her earnings are from being a brand ambassador for big companies such as Emirates airlines, Smartwater and Aveeno.
Jennifer Lawrence, on the other hand, dropped two spots and now sits at No. 3 after dominating the Forbes list last year. The "Joy" star still made $24 million even without the hit franchise "Hunger Games." The majority of her earnings for last 12 months came from her roles in the movies "Mother," which was directed by boyfriend Darren Aronofsky, and "Red Sparrow," as well as her Dior endorsement.
In the fourth spot is Melissa McCarthy with $18 million. Rounding out the top five is Mila Kunis, who earned $15.5 million.
"Beauty and the Beast" star Emma Watson made it to the sixth spot, becoming the sole newcomer in the top 10 list. Watson's recent movie, "The Circle," was a flop, but she still managed to make $14 million within the past year. Her blockbuster film, "Beauty and the Beast," raked in $1.26 billion worldwide and is the highest-grossing movie of the year so far.
Initially, there was speculation that Watson would surpass Lawrence in Forbes' 2017 list of highest-paid actresses due to the success of "Beauty and the Beast." However, it turned out that another Emma topped the list this year.
Meanwhile, aside from landing her a spot in Forbes' list of highest-paid actresses, her "La La Land" role also won Stone the Academy Award for best actress. She was especially thankful for the recognition because she has been working her way up in the entertainment industry since she was a teen. "I moved here when I was 15 to start auditioning, I knew what it felt like to go on audition after audition," the "Easy A" actress said backstage after accepting her Oscar.
Were you surprised that Stone dominated Forbes' 2017 highest-paid actresses list or did you expect it? Share your thoughts in the comments section below.
© Copyright IBTimes 2023. All rights reserved.