'Empire' Season 2 Spoilers: Lucious And Hakeem Threaten To Kill Each Other In Episode 11 Promo [VIDEO]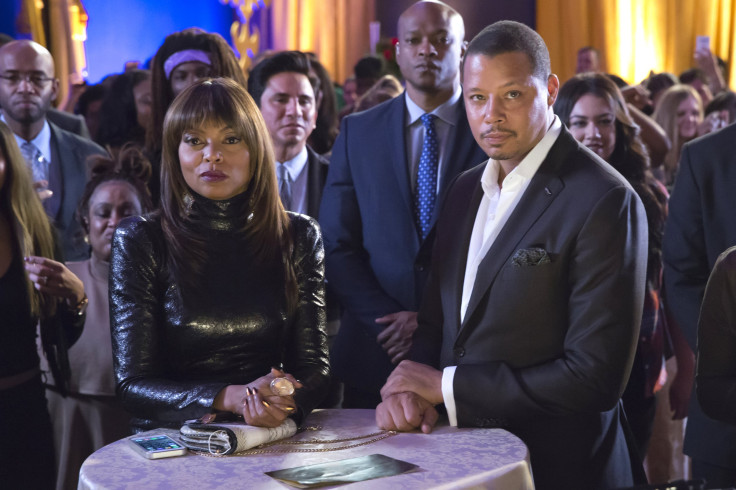 When Fox's "Empire" Season 2 returns in March, Lucious (Terrence Howard) will be out for revenge against all of those who took his company away from him, especially his son Hakeem (Bryshere Y. Gray). The bad blood between the two is on full display in the latest promo video for episode 11, "Death Will Have His Day."
"The next time I see you, I will kill you," Lucious says to Hakeem in the video. Hakeem responds by a holding a gun up to his father's head, as they are both near the water where Lucious killed Bunkie (Antoine McKay) in Season 1.
In a shocking twist in the fall finale, Hakeem had the deciding vote that removed Lucious as CEO of Empire and handed the power over to Mimi (Marissa Tomei). Mimi is currently with Hakeem's old lover Camilla (Naomi Campbell), who could turn the company over to Hakeem. Lucious will be ruthless in his efforts to get the company back, even if that means going through his youngest son.
Cookie (Taraji P. Henson) is also not happy that Hakeem turned his back on the family's company. She tells Hakeem that they all "have it coming," but his time is right now. There is also a moment at the end of the promo where Cookie and Lucious are laying together and she appears to be comforting her ex-husband.
The other Lyon sons will have their own share of problems to deal with other than Hakeem. Rhonda (Kaitlin Doubleday), who is pregnant with Andre's (Trai Byers) baby, was shoved down a flight of stairs at the end of episode 10. It's unclear if she survived the fall or not, but Andre will have to cope with whatever happened to his wife and future child. Jamal (Jussie Smollett) will also have to do with his actions of hooking up with Skye Summers (Alicia Keys) and the potential damage it could cause with his promoterJamieson (William Fichtner).
There won't be any shortage of drama when the Lyon family returns in March, which will feature explosions, heartache, and potentially even more betrayals. Watch the promo for episode 11 below:
"Empire" episode 11, "Death Will Have His Day," will air on Fox Wednesday, March 30, at 9 p.m. EST.
© Copyright IBTimes 2023. All rights reserved.