Eva Longoria Talks Divorce Sexting Scandal, ?I Really Wanted To Know Why?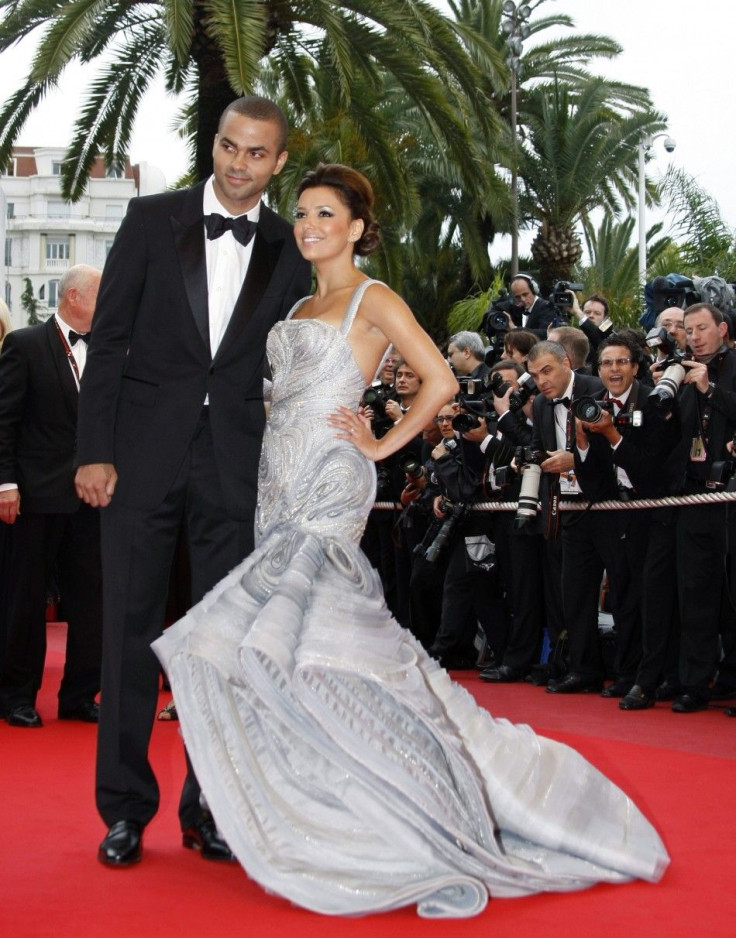 Eva Longoria is a beautiful, successful actress, philanthropist and political activist. But her pristine resume did not make her immune to shattering heartbreak. In 2010, Eva Longoria filed for divorce from basketball player Tony Parker after just three years of marriage. Although she cited discord or conflict of personalities, the world knew the reason behind the divorce was scandal. Longoria had uncovered hundreds of sext messages between Parker and another woman.
Eva Longoria opened up about her divorce and the accompanying sexting scandal on Lifetime's The Conversation With Amanda de Cadenet on Thursday. The 37-year-old Mexican beauty admitted that she doesn't carry any baggage but that she really wanted to know why Parker would betray her.
It wasn't about who he chose. I mean, I had moments [where I wondered], 'Am I not sexy enough? Am I not pretty enough? Am I not smart enough?' But in so many of those questions, I immediately stopped and said, 'No, don't start doing that.' Because you can get stuck in that cycle and you can carry on to other things.
This confidence gave Longoria the wherewithal to confront husband Tony Parker about his extramarital conversations with Erin Barry, ex-wife of Brent Barry, Parker's former teammate. Both Parker and Barry have denied a physical affair.
Even having the conversation, I really wanted to provide a pillow for him to say and express 'the why.' Because I really wanted to know why, Longoria explained. 'I don't want to judge you. I'm not going to judge you. I'm not going to be mad in this moment. I'll be mad later.'
At the time, Longoria revealed the split to her close friend and Extra! host Mario Lopez.
Eva wants everyone to know, she's devastated by the rumors of Tony's infidelity. She loved her husband and is heartbroken about their split. But she's strong, Lopez said on the actress' behalf in 2010.
She finally accepted that Parker's actions were definitely not about me, she said.
Society usually thinks there's something wrong with the woman. 'Oh, he cheated on her, so she must not have been sexually satisfying him. She must have been a ball and chain!' says Longoria. Why did he have to have a reason to cheat that had do with me? ... I am so secure in who I am. I really am! And I'm not conceited. I just think, 'Wow, okay, that's the life you want to live.'
Sixteen months have passed since her divorce was finalized and Eva Longoria said she's having a lot of fun again. I'm in a transitional state where I have no rules and I have no boundaries, and I don't really want to put those back up.
Her professional life has reached a milestone. The ABC hit Desperate Housewives, on which Longoria starred as Gabrielle Solis, is over. After eight years, the Desperate Housewives series will end on Sunday, May 13.
On Wednesday, Longoria told David Letterman that she cried when the cast, who have become like family to her, wrapped up the finale. They said 'that's a wrap' for the last time, and that's when the tears came, she said.
Although rumors have spread for years that Desperate Housewives was rife with tension and catfights, Longoria denied the gossip. People magazine writer Charlotte Triggs said that Marcia Cross is like the therapist for the cast. She said everyone can vent to her. Eva Longoria turned to Cross and the rest of her Desperate Housewives family for comfort after her divorce from Parker, reported ABC News. They helped her through.
As for her personal life, Longoria recently split from Eduardo Cruz, singer and younger brother of Penelope Cruz. However, the split was amicable and the two remain friends.
Now, with years of experience behind her, what advice does Eva Longoria offer to friends? Don't marry that basketball player, she joked.
© Copyright IBTimes 2023. All rights reserved.