Ex-Porn Star Mia Khalifa Mocked After Joining OnlyFans: 'She Was Missing The Attention'
KEY POINTS
Mia Khalifa criticized for joining OnlyFans six years after leaving the porn industry
Some Twitter users defended Khalifa for joining OnlyFans
The ex-porn star said she won't be sharing nude content on her OnlyFans account
Mia Khalifa joined OnlyFans and Twitter users have mixed opinions about it, with some mocking her for joining the platform amid her battle with the adult studio BangBros.
Khalifa was part of the porn industry for three months and it has been six years since she turned her back from it. However, she is still feuding with BangBros because the company still has control over the websites and domain attached to her name. She has been attacking the adult company for refusing to remove her porn videos from its websites. Since many celebrities join OnlyFans to offer adult content, Khalifa received criticisms for recently joining the platform.
"I just heard that Mia Khalifa started on OnlyFans. WTF? I thought she hated the adult industry," one tweeted.
"Here you go....safe for work pornstar," one commented with a screenshot of Khalifa's OnlyFans account and laughing emoji.
"She was missing the attention. Now she has control and attention with her own page," another added.
"LOL Mia Khalifa left porn, married a dude, ruined her body, and is now doing OnlyFans. Circled right back around didnt ya? Cant turn a [sex worker] into a housewife," another added.
Another attacked Khalifa for being ashamed of her adult film career and being objectified but still exposing herself to the public. The netizen insisted that Khalifa's issue was not being objectified but not being paid enough.
A different user predicted that Khalifa would later claim she was forced and manipulated to make her OnlyFans page once she starts feeling abused on the platform before adding that she just can't make decisions.
In her past interview, Khalifa said she isn't against porn, but she's against the predatory contracts in the porn industry. She explained that she felt like she was forced to sign it because it was given on the same day she met with the executives and she had no time to think about it. But BangBros refuted this claim saying Khalifa was not forced to sign the contract.
Meanwhile, some of Khalifa's fans still support her move to join OnlyFans because it's her choice to do so and this time she's not forced or manipulated. Also, they understood Khalifa's point of encouraging those who are planning to join the porn industry to "own your content."
"I'm not a major Mia Khalifa fan but I always enjoyed her porn. Too bad she is ashamed of those great performances, but if she has an Only Fans now then that's cool. People don't always know what they want to do in life esp. when they are young. Not gonna waste time hatin'," one wrote.
"Mia khalifa quitting porn career w a huge company like bangbros is bc of their predatory contract and she has no control of anything and she's not earning. only fans is a platform where your self is your boss. there's difference!" another explained.
For people judging Khalifa for joining OnlyFans, she said that she won't be creating nude content on the platform. She will treat her page like her Instagram "without terms of service."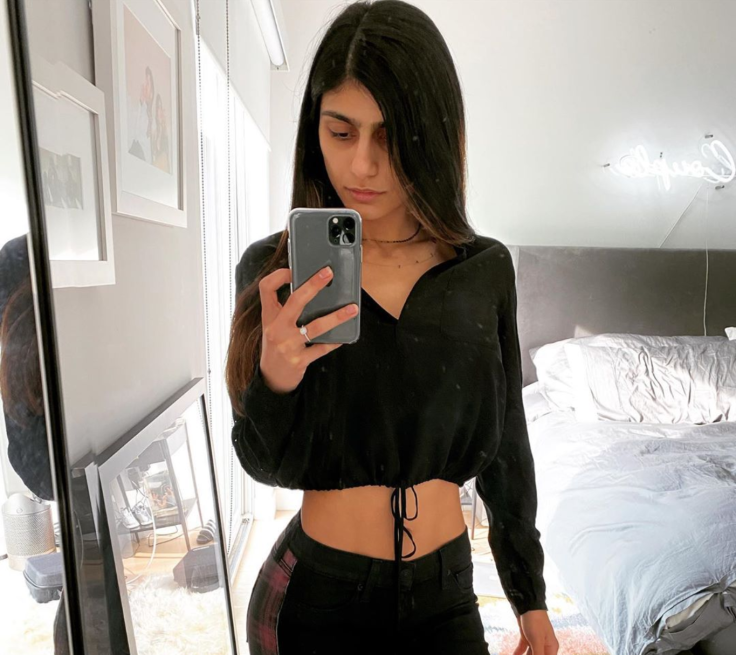 © Copyright IBTimes 2023. All rights reserved.
FOLLOW MORE IBT NEWS ON THE BELOW CHANNELS