Exclusive: Steubenville Defense Lawyer, Walter Madison, Discusses 'Piers Morgan' Appearance And Steubenville Rape Trial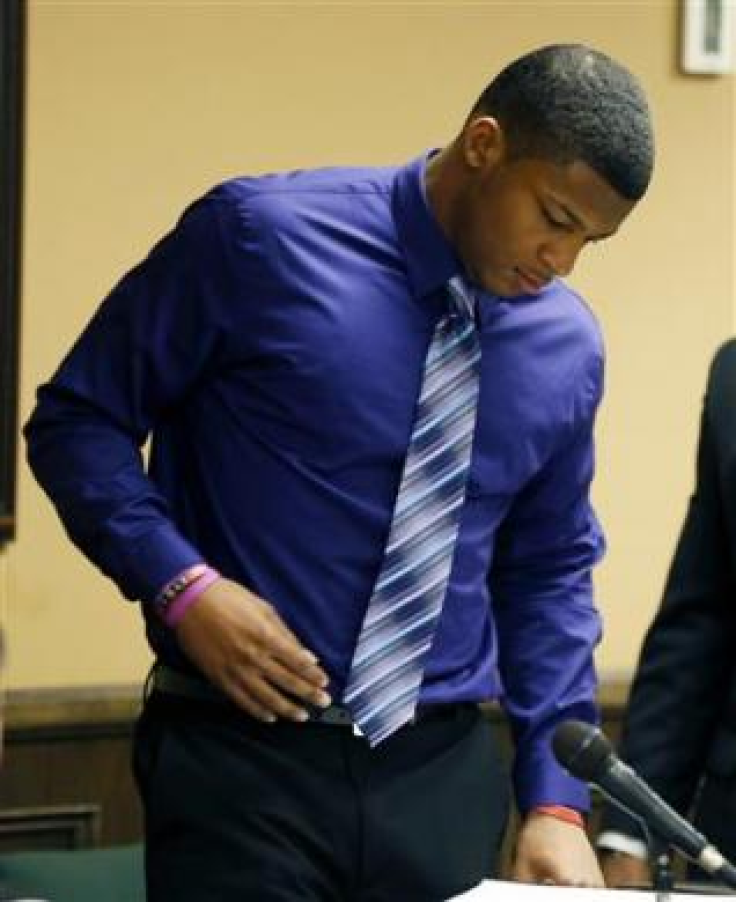 On the March 18 episode of CNN's "Piers Morgan Live," (the full transcript can be read here) the defense attorney for Ma'lik Richmond, Walter Madison, discussed the Steubenville trial as well as his client's sentence. In an exclusive interview with IBTimes, Madison discussed his appearance on "Piers Morgan" as well as other aspects of the Steubenville trial.
As previously reported by IBTimes, Ma'lik Richmond and Trent Mays, both 16 years old, were found delinquent for sexual assault by a juvenile court judge. Richmond was sentenced to one year in a juvenile rehabilitation center but could remain in the center until he is 21. Mays and Richmond will also have to register as sex offenders. Both offered tearful apologies to the victim before the sentencing.
Madison appeared on "Piers Morgan Live" with actress and former adult film star Traci Lords and attorney Gloria Allred. Lords, as reported on the show, was a rape victim herself in Steubenville, when she was 10. "In the debate two days ago, the participants were quite interesting. My goal at this point, being an officer of the court, I accept the court's verdict, I don't have to agree, but I accept it," Madison said. "There comes a point where we have to move the conversation."
Madison described on the program his client's tearful apology saying, "We're in juvenile court and these are juveniles and that's -- what America witnessed is exactly what juvenile court is supposed to do. You saw a court staff sobbing. You saw a court reporter -- news reporters sobbing. There wasn't a dry eye in that courtroom. They were crying for Ma'lik."
Speaking to IBTimes, Madison said he is exploring the possibility of appealing his client's sentence, although no formal plans could be discussed. On the program, Madison called the sex offender registration "ridiculous and unfair," and said, "I don't believe that a person at 75 years old should have to explain for something they did at 16, when scientific evidence would support your brain isn't fully developed. When the evidence in a case would suggest that you were under the influence."
Morgan followed up to that, saying "Listen, I have three teenaged sons. When you get to 16, 17, your brain is developed enough to know you shouldn't be raping girls."
Gawker provided a roundup of evidence in support of Madison's claim that his client's brain is not fully developed. The United States Supreme Court abolished juvenile executions with plenty of expert testimony stating that a teen's mental capacities have yet to fully mature, which could lead to a better chance at rehabilitation.
On Twitter, Madison tweeted a link to the United States Department of Health and Human Services report on the development of the prefrontal cortex, which he said was a jab at Morgan. According to the DOH report, the prefrontal cortex is "one of the last regions of the brain to reach maturation." The prefrontal cortex is also responsible for "Foreseeing and weighing possible consequences of behavior, impulse control and delaying gratification and inhibiting inappropriate behavior and initiating appropriate behavior."
According to the DOH, based on brain research, the brain's development is not totally complete until the age of 25 on the basis of the development of the prefrontal cortex. The brain develops from the back to the front, according to the DOH, meaning the prefrontal cortex is one of the last regions of the brain to develop.
The discussion revolving around the brain's maturity and Madison's possible appeal on behalf of his client has been the focus following the show, but Madison wanted to further raise awareness about other issues and lessons to learn from the Steubenville rape trial. According to Madison, "What happened in that case, happened last weekend, is going to happen again this weekend and it will continue to happen as long as we have children unsupervised and you mix alcohol in. So this is a wonderful opportunity for us to take the discussion, and the issue, to a higher level. I couldn't elevate that debate, if you want to call it that, I couldn't elevate that conversation on Monday night with the participants."
The presence on the program of Traci Lords, who was under 18 when she began appearing in adult films, proved the point according to Madison. "You had an ex-porn star, who is now an actress. I don't say that to be derogatory, I say that to say even she has benefited from compassion and a second chance. Someone married her, someone had children, she moved on with her life and can now be considered an actress and that's what America is all about. So, when you talk about punishing a child, for something that will remain with them for the rest of their lives, for a decision made at 16, I think a reasonable, rational, society might have reason to pause and consider what they are really doing and I feel that's the point I made."
According to Madison the parents also played a role in Steubenville. "There are children there that had no supervision. You can't expect children to lead themselves. That's what we're here for, as responsible adults," the attorney said. "Every child there, including the victim, was allowed to be away from home and engage in such behavior, now whether that be from their immature brains, incapable of evaluating their behavior or maybe even the consequences, or just an all-out lack of parental authority and supervision but one thing is for certain, 50 children, in a loud party, and not one neighbor called the police. In a small house and a neighbor doesn't say, 'Hey, what is Jimmy doing next door, why are there so many kids?'"
While Madison could not discuss any formal plans in regards to the case he said, "In many instances, and many points throughout that evening, I think responsible adults failed all these children."
© Copyright IBTimes 2023. All rights reserved.