FAA: Flight Delays Of Up To 3.5 Hours Begin Sunday, Thanks To Sequester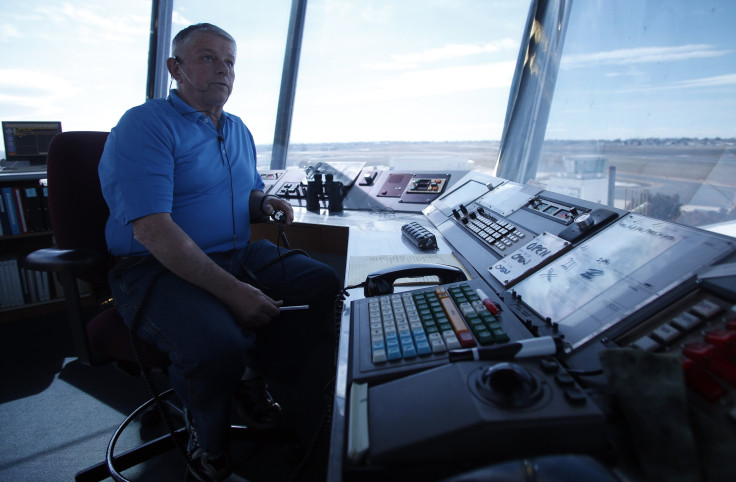 Consider yourself forewarned: As early as Sunday, U.S. fliers nationwide could face delays of up to 3.5 hours as the Federal Aviation Administration finalizes its forced spending cuts under the sequester.
Secretary of Transportation Ray LaHood and FAA chief Michael Huerta told industry executives this week that travelers will face delays averaging between 10 and 30 minutes at major hubs during peak periods. Those delays could grow dramatically on days when controller furloughs force airports to close runways.
Under the cuts, air-traffic controllers will be required to take one day off without pay for every 10 work days through Sept. 30.
The furlough comprises about $200 million of the $637 million the FAA has to cut from its $16 billion budget this fiscal year. As a consequence, about one-third of the nearly 23,000 daily U.S. flights could be affected.
FAA officials told those at the industry briefing that the cutbacks, due to begin Sunday, could delay as many as 6,700 flights each day at the nation's 13 biggest airports. Those airports include Atlanta Hartsfield-Jackson, Chicago O'Hare, Los Angeles, San Francisco, Miami and the three hubs that service New York City.
Huerta said maximum delays could be 210 minutes for flights into Atlanta; 132 minutes for flights to Chicago O'Hare; 80 minutes to LaGuardia; 67 minutes to Los Angeles; and 50 minutes to JFK and Newark. The delays differ due to unique configurations at each hub, like intersecting runways, multiple control towers and varying technology. The figures are based on a study conducted at the 13 major airports on March 29, a clear weather Friday, and Huerta cautioned that the estimates don't include unpredictable events like equipment failures and foul weather.
Thus far, airlines have been reluctant to notify passengers of the impending delays, in part, because they had hoped the FAA would come up with an alternative plan. Many airlines are waiting to see what happens on Sunday before they make any anticipated cuts to their flight schedules.
Criticism on Thursday came from both the left, right and everywhere in between.
"These furloughs will have a very real impact on all of us at every level," a spokesperson for the Air Line Pilots Association, International, the world's largest airline pilot union, warned.
"For the airlines, it means significant cuts in capacity and major financial losses. For pilots, it could span from challenges getting to work to losing their jobs. For passengers, it could mean a lot of time waiting in airports and not making it to their destinations on time."
Airlines for America, or A4A, an industry trade organization representing the nation's leading airlines, said it was concerned about the FAA's proposal.
"There is absolutely no reason why sequestration cuts should wreak havoc for airline passengers and shippers, the very people who fund two-thirds of the FAA's budget," A4A President and CEO Nicholas E. Calio said. "The FAA applied a similar approach during the two-week FAA shutdown in 2011 without impacting passengers, and we would expect nothing less now."
Calio hoped a bill introduced on Tuesday by Sen. Roy Blunt, R-Mo., would enable federal employees such as air-traffic controllers to continue to provide vital services, despite the budget sequestration.
"We commend Sen. Blunt for his continued leadership, and encourage bipartisan support for this bill, which will ensure the two million customers and 50,000 tons of cargo that fly every day are not negatively or punitively impacted by unnecessary cuts," Calio said.
Several congressional Republicans have been critical of the decisions made by Transportation Secretary LaHood, who is a Republican. U.S. Senator Tom Coburn, R-Okla., called the latest changes a "dangerous political stunt that could jeopardize the safety and security of air travelers."
"Contrary to Secretary LaHood's public statements, the FAA has no way to ensure it can limit the consequences of furloughs to flight delays. Even if flight delays are the worst outcome, it is unconscionable for the administration to deliberately inconvenience air travelers because they refuse to believe we can live within our means," Coburn said.
He said the FAA had failed to ask for greater authority to reprogram funds or to make smart cuts that "have been spelled out to them." Coburn recommended curtailing subsidies for "airports to nowhere" that he said serve fewer than 10 passengers a day.
LaHood and Huerta have remained adamant that the cuts may reduce efficiency, but not passenger safety.
© Copyright IBTimes 2023. All rights reserved.