Falcao Transfer Rumors: Real Madrid And Chelsea Interested In Colombian Star?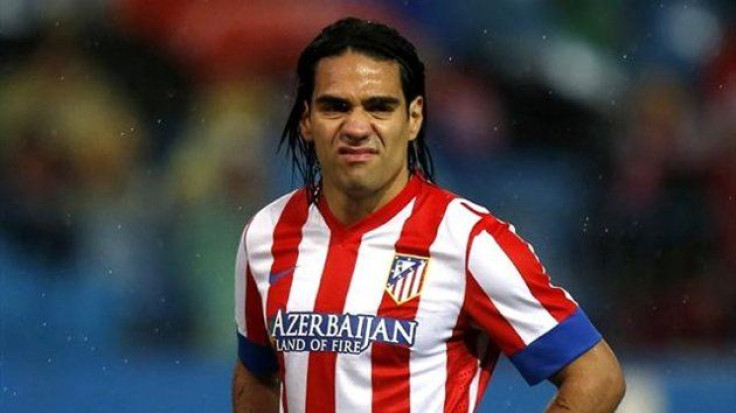 A devastating torn anterior cruciate ligament in his left knee has likely knocked Monaco and Colombian striker Radamel Falcao out for the rest of the season and this summer's World Cup, but it will be interesting to see if the injury effects the goal scorer's value on the transfer market.
The 27-year-old, whose notched 61 goals in all competitions over the last three years between Atletico Madrid and Monaco, has been one of the globe's most unstoppable forces on the pitch and one of its most sought after talents.
Late last year and entering this winter, Falcao was a transfer target for both world titans Chelsea and Real Madrid, with Blues manager Jose Mourinho spotted scouting El Tigre in Brussels back in November.
Chelsea will reportedly delay any more overtures for Falcao, according to Metro, but might continue their pursuit in the summer when the player's recovery and future can be better predicted.
Should Mourinho still be enamored with Falcao despite the injury, much of the funds to cover his £53 million valuation would likely come from the upcoming sale of attacking midfielder Juan Mata. Mourinho recently told SkySports that Mata's transfer to Manchester United would be completed "sooner rather than later."
Struggling United will reportedly fork over £37 million for Mata, nearly £14 million in profit for Chelsea considering they acquired the Spanish playmaker from Valencia for £23.5 million in 2011.
Well before his injury last week, Falcao dismissed the chances he'd play for Chelsea or anywhere else in Europe, as he remained focused on guiding Monaco through Ligue 1. However, he did reportedly express a desire to one day play in Serie A, according to ESPN.
"Would I like to play with Mourinho? I'd never considered it," Falcao said. "As of today it doesn't seem possible, as we are on two very different paths and I have a five-year contract with Monaco.
"But Mourinho is a coach with a fantastic career, the titles that he has won speak for him and nobody can deny his capabilities.
"But there has been a lot of speculation around European clubs interested in me. I didn't think too much about that, though. I try to concentrate on my objectives, training to achieve important results."
Then there's Madrid, a squad linked most recently this week to Falcao by Telegraph. Already loaded at midfield, the report indicates Los Blancos need some fresh striking blood as evidenced by their chase for United's Wayne Rooney, but they'll have to shell out double the funds if they hope to land Falcao instead.
Daily Mail also reported that Falcao is on Madrid's short list of top center forwards they hope to target this summer, including Manchester City's Sergio Aguero.
© Copyright IBTimes 2023. All rights reserved.