Famed Activist, Chicago Catholic Priest Accused Of Child Sexual Abuse
Catholic priest Michael Pfleger, who gained national fame for his anti-violence activism, has been temporarily suspended from his ministry after an investigation by the Archdiocese of Chicago over another decades-old claim of sexual abuse.
On Saturday, Cardinal Blase Cupich announced the new accusation, which reportedly occurred more than 30 years ago. It comes after Pfleger was reinstated in May 2021, when an investigation cleared him of wrongdoing for an unrelated accusation.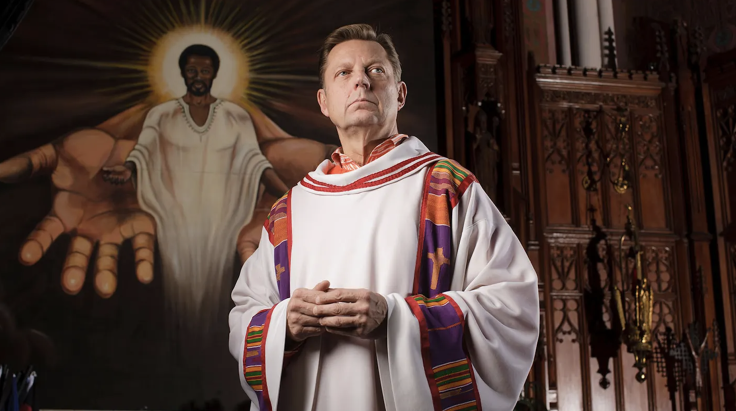 Pfleger is accused of abusing a child, who was a member of the Soul Children of Chicago choir in the 1980s. Pfleger has been a pastor of Saint Sabina Catholic Church, a Black parish in Chicago's Auburn Gresham neighborhood, since 1981.
He was cleared of the previous accusation after a five-month investigation by the Archdiocese and the Department of Children and Family Services. The accusation came from two brothers, who said Pfleger inflicted years of sexual abuse on them during the 1970s.
Pfleger gained national attention for his anti-violence activism and work for President Obama's 2008 campaign. He has also been the subject of controversies involving his public comments, which got him suspended on many occasions.
His activism focuses primarily on Black children in his community exposed to violence.
In 2012, he led a protest against Jerry Springer, whose talk show films in Chicago. Black children protested alongside him, holding signs with slogans such as "stop trash television," and "don't finance violence."
In a statement, Cardinal Cupich said Pfleger fully cooperated with their request to step aside from his ministry and live away from the parish.
The allegations come after the FBI announced in June that it is investigating the Archdiocese of New Orleans for decades-long sex abuse of minors.
In 2019, Pope Francis abolished Vatican secrecy rules, which bishops had used to cover up sex abuse allegations. It is now mandatory that all dioceses establish systems to report abuse.
© Copyright IBTimes 2023. All rights reserved.