Fan Bingbing, Chinese Movie Star, Praised As Much-Needed Role Model After Driving Injured Boy To Hospital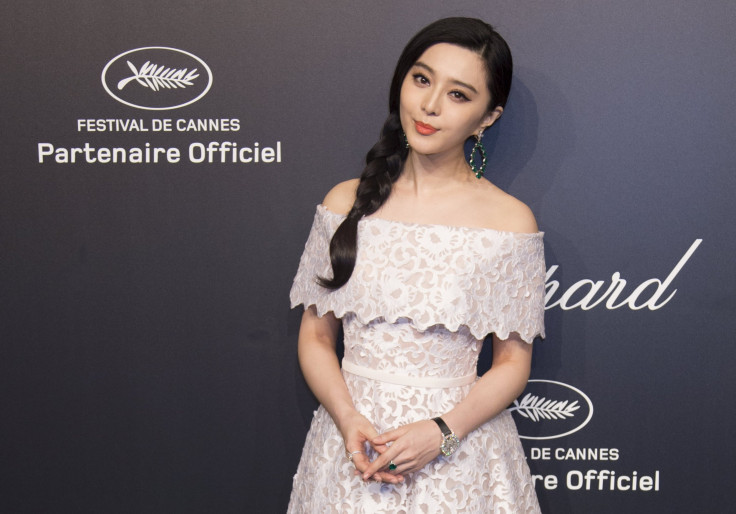 SHANGHAI -- Top Chinese actress Fan Bingbing has made headlines on China's Internet after stopping her car to pick up a boy who was injured in a road accident, and taking him to a hospital. The incident has attracted widespread praise in a country where a lack of public spirit has been widely debated in recent years -- though some more cynical readers have suggested it was designed to drum up publicity.
Fan, who has topped the Forbes China celebrity list for the past three years, and recently wowed the crowds at Cannes -- and at the Shanghai Film Festival -- in designer dresses, was reportedly filming a reality show for Chinese TV in the eastern city of Hangzhou when the incident happened.
Fan, who had taken on the role of a taxi driver for the show, was apparently driving along a street when she saw the five-year-old boy sitting beside the road, with blood pouring from his mouth, after being knocked off his aunt's electric bicycle by a car.
Fan reportedly told them both to get in the car, and drove them to the nearest hospital, where she waited while the boy, who had broken his front teeth, had a check-up. She then gave his aunt some money to help cover the medical fees before leaving, local media reported.
The fact that there was a cameraman in the car with Fan when the incident happened -- and pictures of her in the hospital were then posted on social media -- led some Internet users to suggest that the actress was simply seeking publicity. But others praised her for her altruism, saying society needed celebrities to set such a good example, the official Global Times reported.
China has seen some heated debates about public morality -- or the lack thereof -- in recent years, after several cases in which members of the public failed to help those injured in accidents. In one notorious case in 2011, a girl was run over in a market in southern China, and 18 passers-by ignored her lying injured on the ground, before a cleaning lady at the market finally raised the alarm. The girl later died in hospital.
That case further highlighted the prevalence of cynicism in China, when some Internet users claimed that the woman had helped the child as a publicity stunt or to get a reward -- though some observers said such cynicism was inevitable in a nation that has seen several cases of manufactured public-relations stunts and 'fake news,' and has a long experience of official propaganda.
Even President Xi Jinping's doctoral supervisor, Sun Liping, famously wrote in 2012 that Chinese people were "not only beginning to lose trust in official information, but our society's ability to present truth to itself is gradually disappearing."
And concerns about social morality have continued -- not least following a recent case of road rage in Chengdu, when Internet users found fault with both the attacker, for his violence, and the victim for selfish and dangerous driving.
Perceptions of a lack of public spirit are so deeply embedded now that when a driver stopped his car to help an old woman across the road earlier this month, the incident was reported on national TV in China.
Fan's supporters defended her from claims that the incident was staged by suggesting that the actress hardly needed to drum up publicity. She recently starred in and produced the hit TV series "Empress of China" (though the program had to be re-edited because China's TV regulators said its female stars' costumes revealed too much cleavage). And Fan's private life is frequently debated online and in the media -- she recently posted online a picture of herself with her new boyfriend, who co-starred in the TV series.
And Fan is also known for both her charitable work -- she set up a heart disease charity for children in Tibet -- and her independent spirit. When Wang Sicong, the outspoken son of China's richest man, Wanda Group founder Wang Jianlin, recently accused her of having no talent she tweeted that he should go back to see his dad and she would get on with her work.
Fan's latest bout of publicity is also likely to help her score further points over Wang, who has been criticized by state media in recent months as the type of vulgar celebrity who is undermining China's social morality. His social media posts have included comments on women's physiques, lewd jokes about his dog and a picture of the same dog wearing two Apple Watches.
The Chinese government is currently trying to combat both excess and cynicism in society -- not least in order to promote greater ideological support for its rule. It has launched campaigns to promote altruism, by invoking the spirit of Lei Feng, a 1960s' "model soldier" who was praised by Chairman Mao for his selflessness and frugality (he was said to have darned his own socks). The railway station in the eastern city of Nanjing, for example, recently set up a Lei Feng Service Center, with staff who offer help to the elderly, the disabled and passengers with small children.
© Copyright IBTimes 2023. All rights reserved.