Far-Right Millennials Are On A Mission To 'Defend Europe' From Migrants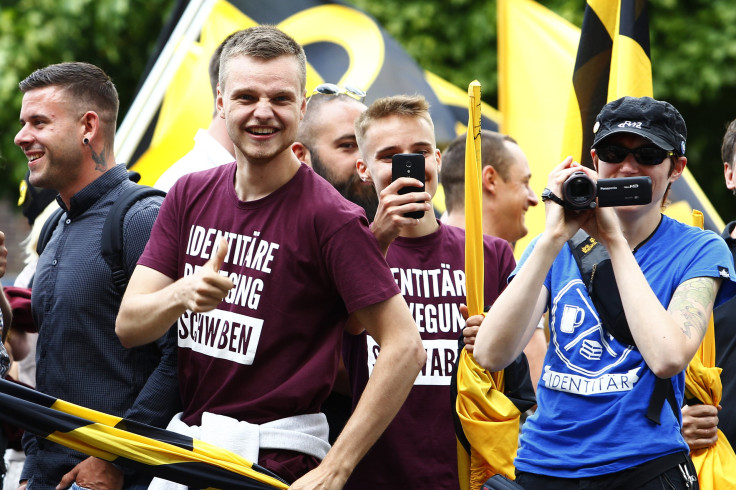 A dozen far-right millennials set out on a 10-day trip with a mission to "defend Europe" from what they're referring to as a migrant invasion from Africa, according to Reuters. The group rented a ship to set sail for the Libyan coast, which is in Africa, to keep surveillance on humanitarian rescuers' illegal collaboration efforts.
The group defending Europe supports the Identitarian Movement, which is an international movement that aims to preserve European's national identity and reinstate traditional western values. The Alt-Right Movement is steadily rising in Europe, with countries like Germany and France at the forefront of this change.
Read: Trump vs. Le Pen: Far-Right, Populist Politicians Differ On Israel, Government's Role, Religion, Voter Support
The Identitarian followers have accused the humanitarian rescuers of colluding with smugglers to place migrants on dangerous boats, meaning they believe they're conspiring to aid the migrants for a harmful end goal.
"We'll take all necessary precautions to deal with the dangerous situation, but of course, we will stick to international laws — we don't have weapons on board," said Martin Sellner, a spokesperson for the Identitarian Movement in Austria, to Reuters. "We will, in a way, help the efforts of the coast guard to keep the shore secure, but we don't want to bring those people to Europe because there's a difference between saving people, saving lives and smuggling them into Europe."
Migrants have emerged primarily in Europe and are now approaching 100,000—13 percent higher than last year's numbers. There are also 200,000 asylum workers are living in shelters funded by the state.
The Identitarian group isn't a typical extremist alt-right group, using non-racist language to get their message across on the ongoing migrant crisis, which is being referred to on their Twitter page as a defense of "human trafficking in Mediterranean Sea."
They've been identified as a young, intelligent and social-media savvy group, which some might say sets them apart from other alt-right groups. They've earned the title of "hipsters of the far-right," according to German news publication DW. Identitarians possess a simple and clean logo, a black and yellow lambda.
Read: A Female Trump In France? Far-Right Candidate Marine Le Pen Advances In French Presidential Polls
On the group's website, they've posted a video about their latest mission, which is being referred to as "different Europe." The video states that "neither the hate campaign of the media nor... our people have come to stop us." Identitarians on the Libyan coast will intervene when necessary, "[rescuing] the people in distress and [to] make sure" they're escorted back to the coast, properly securing the European borders thereafter.
The Identitarian Search-And-Rescue (SAR) Mission isn't being funded by the government. Therefore, they sought out financial support through like-minded people, raising $128,395 to date to create a safer Europe. Contributors have donated anywhere between $500 and $2,500, with one anonymous donator saying, "this project is so inspiring and important."
"We will reach out to the Libyan Coast Guard and offer them our help as a recon ship," the group's website reads. "Our goal is to step in where our politicians are failing and to do what is necessary to stop the deadly illegal migration into Europe."
Their argument continued about the rising number of migrants. "Every week, every day, every hour – ships packed with illegal immigrants are flooding into European waters. This massive illegal migration is changing the face of our continent."
Follow me on Twitter @dory_jackson
© Copyright IBTimes 2022. All rights reserved.
FOLLOW MORE IBT NEWS ON THE BELOW CHANNELS