'Fargo' Season 2 Spoilers: Kirsten Dunst And Ted Danson Featured In 2 New Teasers [VIDEOS]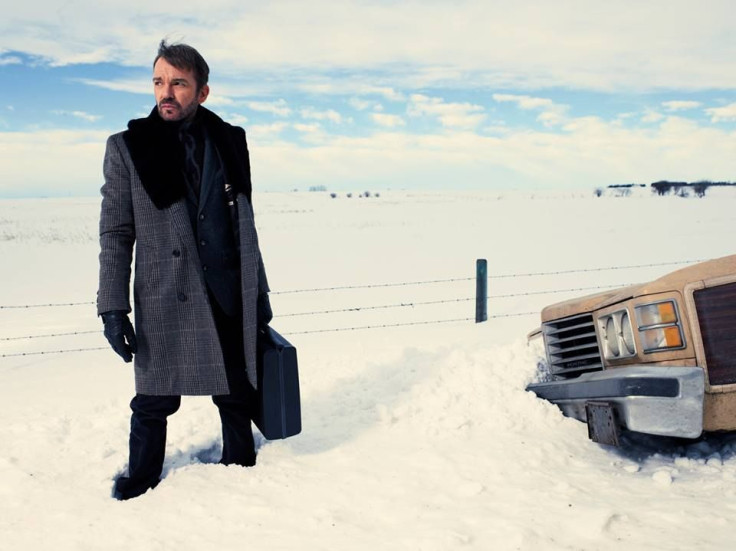 Two was the magic number for fans of the FX series "Fargo" on Wednesday. In anticipation of Season 2 of the critically acclaimed mystery series, FX released not one, but two teasers for the new episodes, giving fans a peek at two of the new key characters in action.
The first of the two teasers, obtained exclusively by Entertainment Weekly, introduces fans to beautician Peggy Blomquist, played by Kirsten Dunst. In the sneak-peek video, a visibly shaken Blomquist washes a disconcerting amount of an unidentified red liquid off of her hands in a sink before returning to her client. Watching Blomquist stare at the woman, whose head appears to be covered in red (blood colored!) hair dye, it is clear that Blomquist has something else on her mind.
Watch the first teaser, "Curl Up and Dye," below:
The second teaser reveals Ted Danson as Sheriff Hank Larsson. The sheriff is on break with Lou Solverson (Patrick Wilson, taking over the role from Keith Carradine) in adjacent cars, enjoying some soup and a long silence. After a few moments, Larsson gives the word, and he and Solverson go their separate ways back to work.
Watch the second teaser, "Break Time," below:
Season 2 will jump back almost three decades before the events of Season 1 in Sioux Falls, South Dakota, and Luverne, Minnesota, in 1979. There, a young Lou Solverson will cut his teeth alongside Sheriff Larsson as they investigate a confounding new case. A leaked copy of the premiere script ignited speculation that Dunst's character, Peggy Blomquist, might be the murderer in the new episodes. The dye/blood-filled teaser did not do anything to rebuff those theories. Cristin Milioti will also appear in Season 2 playing Solverson's young wife.
How will it all go down? Fans will have to wait to find out. Season 2 of "Fargo" will premiere on FX in the fall.
© Copyright IBTimes 2023. All rights reserved.