'Fear the Walking Dead': Kim Dickens On Filming Madison's Final Episode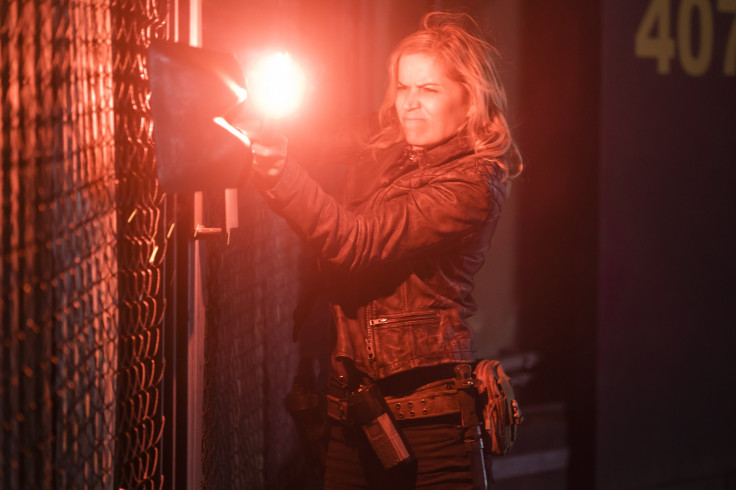 Though Kim Dickens' exit from "Fear the Walking Dead" was something she didn't request, the actress said that filming her final episode on the AMC series wasn't very dramatic for her.
In a recent interview with Entertainment Weekly, Dickens said that the whole cast and crew knew about her departure long before they filmed her final episode, and that gave them enough time to say their goodbyes to one another.
"Every episode you [say goodbye] is a tough episode," said Dickens. "We always aim for the fence and we shoot them in eight days, which is a lot less than a lot of other epic shows get. So we're always working hard and aiming for the fence and I think that last episode, we'd all kind of been going through it for five months, so by the end we were just doing our job and making it as good as we could. And it wasn't very melodramatic or dramatic for me at all at the very end. We'd been saying goodbye and I said goodbye and we'd already had our dinner, we'd been hanging out all season. We still see each other now, so it wasn't that bad."
For Madison's death scene, Dickens was the only cast member present on the set. "The crew was very respectful and somber [that night]," the 52-year-old actress said during "The Talking Dead" episode following the airing of the midseason finale. "We wanted to do a great job, and we did. I felt proud of it. Steve [Davis], our cast coordinator, was the one guy who stayed all night with me. It was freezing. He stayed all night until sunrise. Every time I went into the tent to sit in my chair, he sat there quietly, sitting for support."
"As Kim the actor, I thought, I feel I would cry during this scene," added Dickens, "but you realize the mother in this scene would impart through subtext, 'I'm okay. Don't worry about me. I'm okay. I love you.' I think that's what Madison [conveyed] across the lines. She was strong for her daughter."
Interestingly, the last scene Dickens filmed for "Fear the Walking Dead" was actually the first scene of her final episode.
"The last thing I shot was the opening sequence with Maggie [Grace] when we were out in the woods and I shoot her cup of noodles, that was the last sequence we shot," Dickens told Comicbook.com. "It wasn't intended to be that way but we had to shut down production when there was very high wind. That opening sequence got pushed in the end of the schedule but it worked out. For some reason, it was this really fun to shoot. I had such a great time working with Maggie and that's the only time I got to work with her in the season. That was fun, it was interesting to shooting the very first thing, last but it was fun. I loved that sequence. I felt like I got Madison back, you know her unhinged wild side and was really creatively stimulating to get to play all those different aspects to Madison especially in the last day."
What do you think of Dickens' final episode on the zombie drama? Sound off in the comments section below!
"Fear the Walking Dead" will resume its fourth-season run on Sunday, Aug. 12 at 9 p.m. EDT on AMC.
© Copyright IBTimes 2023. All rights reserved.