'Fear The Walking Dead': Madison, Troy Discover New Threat In Season 3, Episode 5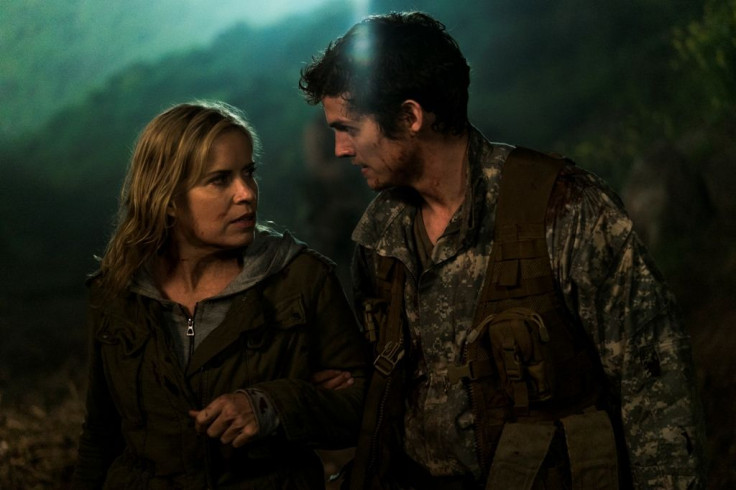 A new threat to the Otto ranch will be revealed in Season 3, episode 5 of "Fear the Walking Dead."
According to the synopsis for the episode, a new threat reveals itself to Madison (Kim Dickens) and Troy (Daniel Sharman) as they search for the ranch's missing group. Madison volunteered to join the search party at the end of Season 3, episode 3 to show that she has initiative and can be also be an asset to the sanctuary. Despite her good intentions, Nick (Frank Dillane) and Alicia (Alicia Debnam Carey) don't think that their mom has made the right decision.
"Mom, you don't have to do this," Nick tells Madison in a sneak peek from this Sunday's episode.
"We need to contribute," Madison replies.
"There are other ways," Alicia points out.
READ: Rubén Blades talks Daniel Salazar's big Spanish-language episode
When Nick says that he should go instead of her, Madison tells him to just take care of Luciana (Danay Garcia). Madison then reveals that she joined the search party not only to look for the missing residents of the ranch, but also to understand the Otto family, especially Troy, much better.
As revealed earlier in the season, Troy is looking for a motherly figure. And while his need for mothering isn't too obvious, executive producer Dave Erickson told Entertainment Weekly that it didn't take much time before Madison figured that out. "I think what she's come to realize after the first couple episodes is that as sociopathic and violent as Troy can be, there's also something of a broken kid in there," Erickson said of Madison. "She sees in him a need for mothering. … And her feeling is she can control him, and if she can control him, then he becomes an asset — he becomes something that she can use to protect her family."
Promotional photos for the episode revealed that Michael Greyeyes will make his debut appearance as Qaletaqa Walker in the hour. Details about Greyeyes' role are being kept under wraps, but could his character be related to the new threat mentioned in the synopsis? Only time will tell.
Also in the upcoming episode, Alicia must reconcile with her past decisions.
"Fear the Walking Dead" Season 3, episode 5, titled "Burning in Water, Drowning in Flame," airs on Sunday, June 25 at 9 p.m. EDT on AMC.
© Copyright IBTimes 2023. All rights reserved.