'Fear The Walking Dead': Maggie Grace Explains Why Althea Is Collecting Stories
Maggie Grace made her debut appearance as Althea in last week's Season 4 premiere of "Fear the Walking Dead." Althea made quite an entrance in the episode, in which she showed up driving a S.W.A.T. vehicle. While a lot of fans are wondering about how Althea got that mobile, it is actually her pursuit of recording stories from all across the apocalypse that makes her an intriguing character.
In a recent interview with Entertainment Weekly, Grace explained why she thinks Althea is documenting the stories of her fellow survivors. "There are quite a few layers there," Grace said. "On one hand, there's the personal. You know, we tell ourselves stories in order to live. And I do think this agenda is saving her life."
"In a deeper way, I think this season is very much about trying to find human connection when there's few humans left," Grace continued. "I think she's really looking for that very human quality that's still left in people. Is there still anything noble, or worth saving, about humanity that separates us from the walkers? It's reduced a lot of people to nasty, brutish, and a short life. But then there are also incredible acts of kindness and compassion and self-sacrifice, and really incredibly diverse groups working together in ways they might not have before the apocalypse."
Grace also thinks that there's a practical purpose to what Althea is doing. "There are small societies being built from the ground up, and this is the closest thing that they have to news," Grace said of why Althea's mission also has significance to others. "I think also, in a way, it's history rebooting. What are we leaving for those that come after us?"
Co-showrunner Andrew Chambliss echoed Grace's thoughts on history rebooting in a separate interview with Entertainment Weekly. Chambliss said that he thinks the big part of what Althea is doing is "preparing for the future and trying to get a record of how people survived — and beyond the how people survive, what comes out when people are pushed to their limits."
As for why they decided to make Althea a journalist, Chambliss told The Hollywood Reporter that the inspiration for making Grace's character a journalist is coming from the idea of finding hope in a hopeless world. "The idea that you would be documenting what happened and trying to build a record of it speaks to some optimism and some hope that one day, there will be a time where people care about these stories and care about what happened," Chambliss said.
While Grace and Chambliss were both tight-lipped on whether Althea's recordings are building toward a larger arc on the show, the character's official description from AMC states that Althea's curiosity about people is "part of a greater mission, one that will become more critical and complicated as her journey progresses."
"Fear the Walking Dead" airs Sundays at 9 p.m. EDT on AMC.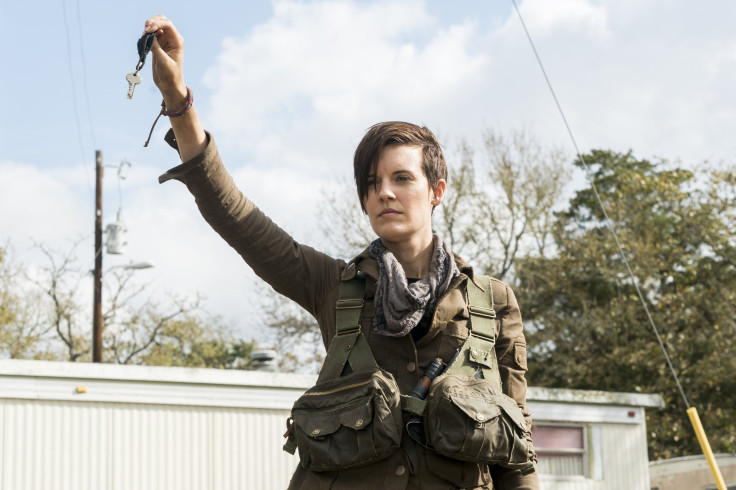 © Copyright IBTimes 2023. All rights reserved.