'Fear The Walking Dead' Spoilers: Danay Garcia Teases What's Next For Luciana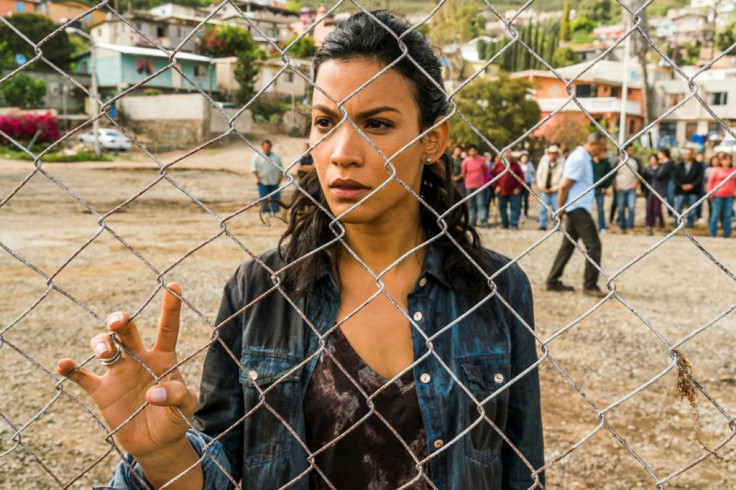 "Fear the Walking Dead" star Danay Garcia revealed that Luciana has no intention of returning to Broke Jaw Ranch in Season 3B of the AMC series.
In a recent interview with NME.com, Garcia said that viewers should not expect her character to come back to the ranch even though her lover Nick (Frank Dillane) is still there.
"Whatever you're gonna see, there's no going back for her," Garcia said of Luciana. "She's gone, she's not coming back. She's not gonna be in the corner, waiting for Nick to come out. She's out, and she's looking for a new home. If she doesn't find a home, she's gonna build it herself. And that's where she's at. That's her intention for leaving."
Luciana left the ranch in Season 3, episode 5 with a plan of going to Mexicali. But since the show has yet to check on Luciana, it remains unclear whether she has reached her destination safely.
Garcia told NME.com that Luciana's decision to leave the ranch is a no-brainer. "These people killed the entire Colonia," Garcia said of the ranch's militia. "They murder people. We started the entire season seeing this guy do experiments on people. And that doesn't go well with her values, the core of her train of thought. This is not something she wants to be in involved in, or fight for, or protect. They killed my entire family — they killed the entire Colonia. That's not something she's gonna settle for."
Garcia added that Luciana had also anticipated how bad things would go between the ranch and the Nation. "She sees the whole thing coming and she thinks, 'I gotta go,'" Garcia told BT TV earlier this week. "The first half of the season was about her healing. She was at the bottom of the bottom, but now that she has got some strength, she can see the problem and doesn't want to be part of this. It's ugly."
In addition, Garcia said that Luciana "doesn't belong" in the ranch — a truth expounded by executive producer Gale Ann Hurd in a separate interview with BT TV last June.
Hurd said that Luciana was aware that Jeremiah (Dayton Callie) had always seen her as an outsider since the very beginning. "Otto believes that people with the same value system, the same skin color, the same background, that's his tribe. Luciana has a different tribe," explained Hurd. "He would never really be able to see her as someone who belongs, and she knows that."
"Fear the Walking Dead" Season 3B premieres on Sunday, Sept. 10 at 9 p.m. EDT on AMC.
© Copyright IBTimes 2023. All rights reserved.