'Fear The Walking Dead' Spoilers: Sam Underwood Talks Alicia And Jake's Relationship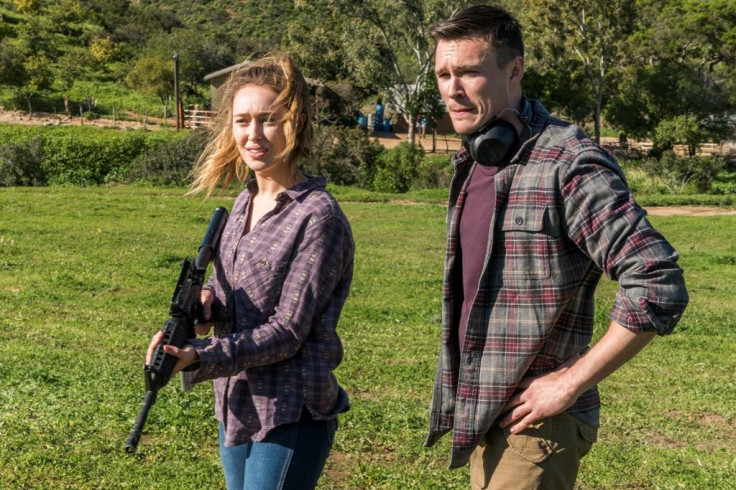 Although Alicia and Jake have been intimate with each other since the latter part of "Fear the Walking Dead" Season 3A, AMC star Sam Underwood doesn't think that the pair's relationship is romantic.
"I think that Jake (Underwood) and Alicia (Alycia Debnam-Carey) both know their relationship isn't love," Underwood told BT TV in a recent interview. "They're not in a whirlwind relationship. They're just two people who need some connection to another human being, which isn't driven by survival."
"It's not about the need to procreate or for a partner," the 30-year-old British actor added. "It's about the need for intimacy, something that these characters just can't find in this new world, either because their partner has died or because they have these walking dead things getting in the way."
As to why Alicia and Jake were drawn to each other, Underwood said that both characters "have been through intense trauma and they want something special, something that's real and something that's maybe a little bit safe."
When asked if Alicia and Jake are trying to manipulate each other through the relationship, Underwood said that he doesn't think either one is manipulating the other. "They're both very much on the same page," the actor said. "It's something that everyone needs, they're just very lucky that they've found someone who can give them that."
Even though love is not the foundation of Alicia and Jake's relationship, the pair's bond is expected to grow stronger in Season 3B. As TV Guide reported, Madison (Kim Dickens) will find her daughter siding with Jake more and more in the second half of the season. In fact, in a featurette teasing Season 3B, Alicia calls her mom out for back channeling with Walker (Michael Greyeyes).
"It doesn't help Jake or the peace if you back channel with Walker," Alicia tells Madison in the promo clip. When Madison denies Alicia's claim, Alicia calls her mom a liar.
While Underwood couldn't reveal any spoilers about Season 3B, he teased that the upcoming batch of episodes is "action-packed." "It's already very high-paced … the adrenaline of the show is increasing," he told BT TV. "We're stuck in this little community and it becomes a real boiler room, very claustrophobic and it affects people in different ways. Some people quite negatively. You are going to see some explosive results."
"Fear the Walking Dead" Season 3B premieres on Sunday, Sept. 10 at 9 p.m. EDT on AMC.
© Copyright IBTimes 2023. All rights reserved.