Fed Chair Yellen Says US Is Not In A 'Bubble Economy,' Touts US Economic Growth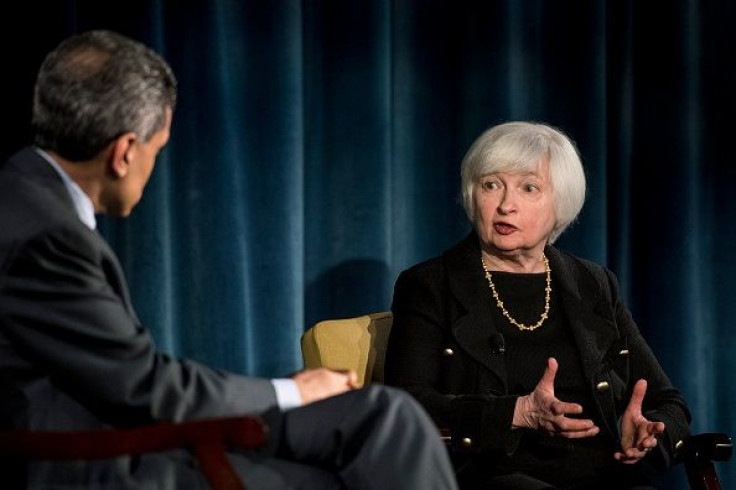 Federal Reserve Chair Janet Yellen lauded the strength of the U.S. economy Thursday, brushing aside concerns that the economy is moving into risky territory.
"This is an economy on a solid course," she said, pointing to modest improvement in inflation and a 5 percent U.S. unemployment rate. ""I certainly wouldn't describe this as a bubble."
Yellen appeared on a panel in New York City with the three living former heads of the U.S. Federal Reserve — Ben Bernanke, Alan Greenspan and Paul Volcker — who collectively have held custody of U.S. monetary policy since 1979.
Yellen's comments contrast sharply with recent doom-and-gloom comments from Republican presidential contender Donald Trump, who has been campaigning on the premise that the U.S is falling behind other countries. In February, the billionaire New York real estate developer said in a campaign stop in New Hampshire the U.S. markets were in a "big, fat juicy bubble."
Analysts have pointed to overvalued stock prices, and to weak corporate earnings that have spurred rounds of stock buybacks to elevate prices. But with robust consumer spending and lower unemployment, weaker earnings have not been a major drag on the U.S. economy as a whole, with little indication of an impending recession.
Yellen echoed widespread concerns regarding a global slowdown in growth and a strong U.S. dollar, but pointed to resilience in the domestic economy, with lower unemployment and robust consumer spending.
Volcker, who headed the Fed from 1979 to 1987 and ushered in the era of the Fed's dual mandate of steering policy toward ideal inflation and employment rates, agreed with Yellen's remarks and brushed aside concerns that the U.S. economy is headed to rougher waters. While admitting some aspects of the economy were "overextended," citing "a lot of reliance on very short-term borrowing" in the financial system, he agreed that no asset bubble was forming. Overinflated housing prices and loose mortgage lending played key roles in the 2007-09 Great Recession.
"We used to have recessions before we had a Fed Reserve," he said. "There are other factors of the economy that causes ups and downs. I wouldn't worry too much about the current situation."
© Copyright IBTimes 2023. All rights reserved.
FOLLOW MORE IBT NEWS ON THE BELOW CHANNELS